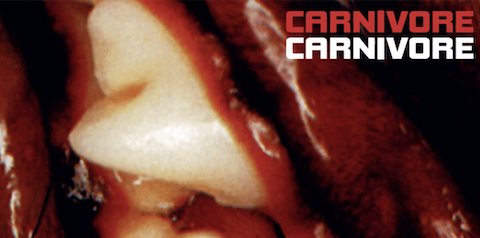 Album Review: Carnivore - Carnivore
Reviewed by Dan Barnes
Just before his untimely death in 2010, frontman, Pete Steele reflected on the band's legacy, stating: "People have completely misunderstood Carnivore. The whole point is that sometimes you have to upset people." Formed in Brooklyn, New York in 1983, Carnivore managed that mission statement with aplomb, and one wonders whether such a band would be even allowed to exist in today's climate.
Originally released in 1985, this self-titled debut album is a fierce slice of nihilistic thrashing crossover from the short-lived trio. Perhaps the best-known participant is bassist and vocalist Pete Steele, who would go on to find wider success with Type O Negative through the 1990s and 2000s and up to his death from sepsis in 2010.
Those only familiar with Steele's later work, in which his vocal delivery was slow and oozed, may be shocked to hear his Cronos-like barking here. The delivery may be different, but the phrasing is undeniably Pete Steele as he draws out his words and makes patented emphasises.
God is Dead and Legion of Doom are anthemic gut-punches, with the former being built around a galloping, classic metal riff that wouldn't feel out of place on a Motorhead record and the latter a full-on biker anthem, complete with driving rhythms, skipping beats and a doomy breakdown.
The pre-occupation with total war and the aftermath of the annihilation of mankind dominates much of this – and the follow up – album, a subject matter that had inspired the Doom bands of the seventies and early eighties, post-Black Sabbath.
There are plenty of slow and glacial riffs to be heard across the record, mixed in with ferocious blasts: Carnivore, Armageddon and Thermonuclear Warrior all begin with bars of plodding guitar before launching into melees of frenzy. Armageddon even manages to instil some fuzzed up bass that could well have inspired the lads in Electric Wizard.
Louis Beateaux's – who would go on to play on Agnostic Front's Cause for Alarm - drums link up with Steele's bass to create a rock-solid rhythm base upon which Keith Alexander can lay out his crushing riffs. Male Supremacy and World Wars III & IV feature some unexpectedly engrossing guitar tones that are so hook laden that you'll be humming them for days.
Those unwilling to hear beyond the superficial will be appalled by the lyrical content but listen a little closer and you'll hear Pete's tongue stick firmly in his cheek as he delivers some of the album's more colourful lines.
Included in this updated version of the album is the three-track EP USA for USA from 1986. This is a far more vicious affair, featuring rough guitar tones and a full-on execution which steams the music back to the band's hardcore roots. The title track, SMD and Sex and Violence are all ripping examples, featuring a crossover vocal Billy Milano would be proud of and some in your face guitar work.
Also included in this package are extensive liner notes, with contributions from the band and a rare interview with only surviving member, Louis, who reformed the band under the name Carnivore AD in 2017
Controversial and confrontational, Carnivore never set out to be your Granny's favourite band; rather to ruffle a few feathers. That we are unlikely to see their like again is a shame, so this re-release could not have been more timely.