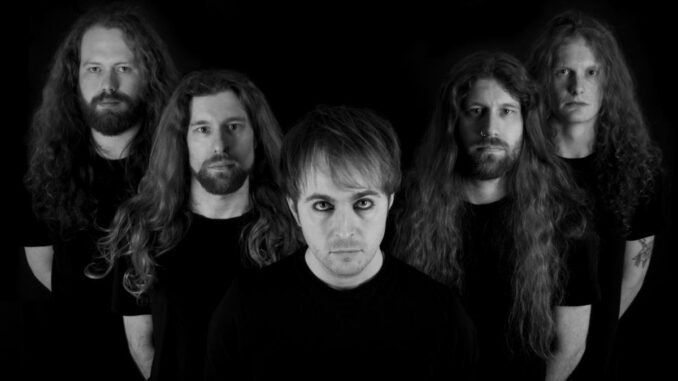 Album Review: Famyne - The Ground Below
Reviewed by Paul Hutchings
One of the bands who really caught my attention in 2021's Bloodstock Festival was Canterbury's Famyne. Their set of Sabbath infused doom hugely impressed with their huge riffs, and frontman Tom Vane's captivating semi-gothic vocals. I'd been eagerly awaiting the arrival of their sophomore release ever since.
Having signed to Svart Records, the band who formed in 2014 and are one of those exceptions who have moved from the New Blood to the Sophie Stage at Bloodstock with ease are now moving into a new era of progressive doom rock. 'II: The Ground Below' is a huge statement of intent, a march across the traditional boundaries and a shining light to herald.
From the explosive opening of 'Defeated', with its thunderously heavy cacophony of demonic riffs through to the closing intimidation of more traditional fare in 'For My Sins', there is nothing here that any self-respecting doom fan should baulk at. There is much more to admire and explore than simple thick downtuned riffs. 'Solid Earth' allows Vane's distinctive vocals full reign to expand, and he provides a performance of stellar quality. There's a haunting resonance to his singing that raises the hairs on the back of the neck. But Vane is merely one part of this machine, which marches relentlessly in a mission to entrance the listener with their hypnotic playing.
Things move to a more ethereal and mesmerising pace with 'Gone', a haunting piece that allows the band to take things down whilst retaining their intense focus. Once more Vane is the central focus but it's the combine musicianship that comes to the fore, the brooding vibrations slowly increasing with each chord until a crashing tsunami of sound breaks in a majestic wave before fading once more.
Their sound at times is also incredibly eclectic. The meandering seven-and-a-half minute 'A Submarine' edges into Anathema territory, such is the expansive and creative flow that the band generate. It's delicate, gentle, and intelligent. From that calming movement the band immediately escalate the tempo with thunderous ease, 'Babylon' seeing them up the volume. Soaring vocals and a combination of intensely powerful passages drift into slower, doom drenched melancholy. It's fantastic music that haunts and lingers.
Whilst the band can drench the atmosphere with darkness, they can also provide some more uplifting moments. 'The Ai' sees Famyne at their most urgent, energetically driving forward on the fastest song on the album. There's some particularly dramatic guitar work courtesy of Tom Ross and Martin Emmons throughout the album but nowhere is it more ferocious than on the grand finale, as they split the sky with their playing in the dramatic conclusion 'For My Sins'. Underpinned by the cohesive unit of bassist Chris Travers and drummer Micheal Ross, whose playing throughout the album is magnificent.
II: A Ground Below is many things. Captivating throughout, it's an album that surely will elevate the band to the premier league of doom bands in the UK. It's certainly enough to push for many a top ten list come December, such is the gravity that it generates. One essential listen.