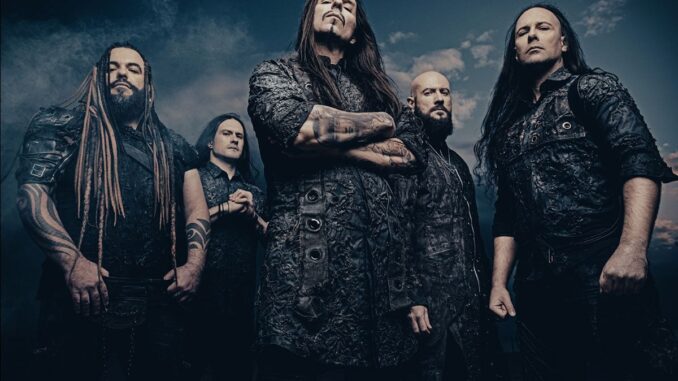 Album Review: Septicflesh - Modern Primitive
Reviewed by Richard Oliver
When you mix the power and majesty of an orchestra with the crushing force of extreme metal it is a colossal meeting of genres and one that works incredibly well. Although there are many bands melding these genres there is one that stands out head and shoulders above the others and that is Septicflesh. Forming in Athens in 1990 and releasing their first E.P. in 1991 the band have been one of Greece's finest metal exports and with their eleventh studio album Modern Primitive the band showcase just why they aren't just the best symphonic death metal band but one of the best bands in all of metal.
Modern Primitive sees the band again collaborating with Filmharmonic Orchestra of Prague this time accompanied by an entire adult and children's choir and the orchestral arrangements are just on another level (ably helped by the fact that guitarist Christos Antoniou is a classically trained composer). These compositions mixed together with the raw power of death metal is truly a glory to behold with a sound that is equally epic, majestic, atmospheric and brutal. The album is chock full of absolute belters with particular highlights including the glorious Hierophant which uses orchestral sections which were previously used as the intro on their Infernus Sinfonica MMXIX live album to stunning effect.
Coming Storm perfectly mixes the grandiose and the brutal together in devastating fashion with a perfect union of symphonics and blast-beats from drummer extraordinaire Krimh whilst Modern Primitives utilises the clean vocals from Sotiris Vayenas to massive effect with vocals melodies that are atmospheric and haunting. Neuromancer is easily one of the best songs the band have ever done with its gnarly Morbid Angel-esque riff to the beautiful orchestration, the haunting choirs and more wonderful cleans from Sotiris which are the perfect counterpart to the ever brilliant and ferocious death growls from frontman and bassist Spiros Antoniou.
Septicflesh have floored me with their eleventh album. Some fans may be disappointed in that it doesn't really tread any new ground being stylistically very similar to the last four albums the band have released but everything on Modern Primitive is fine tuned and it really is Septicflesh at their optimum taking all the elements that have worked for them previously and taking it up to eleven. I thought the band had peaked with previous album Codex Omega but Septicflesh have proved me wrong with one of the best albums they have ever done. This is definitely one of the must hear albums of 2022.