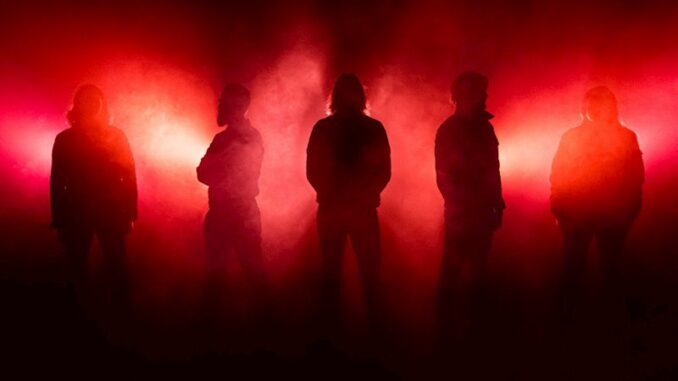 Album Review: Sisyphean - Colours of Faith
Reviewed by Sam Jones
Lithuania is a nation that isn't usually renowned for its extreme metal, and Sisyphean are one such band who are looking to part their part of the world on the metal map. Formed originally in 2012 under the name of Division, the band released one EP in 2013 until, in 2014, Division changed their name a more appropriate moniker that is Sisyphean. The band stripped away their old thrash element and stuck to a strict black/death metal approach to their songwriting. Soon enough, Sisyphean released their debut full length album in 2017 titled Illusions Of Eternity. A Split followed within the same year but then nothing followed suit; 2021 however brought the promise of a new Single and as the new year turned the page, we got the announcement of a new album. I will say that I haven't reviewed much black metal this year, but with an album cover the kind that Colours Of Faith manages to sport there was little chance of me skipping over this. An extreme metal album that promised me some blackened dissonance was deliciously tempting. Let's see what these Lithuanians are all about.
A surprising aspect of this album is the vocal diversity that will crop up. Granted, this is only a relatively minor feature to the record but the fact that we can acknowledge its existence infers the considerable impact it has on our experience of the record. On only a few instances throughout the album's running, the vocals will move from the typically coarse delivery to something that's a lot more akin to what you'd get out of Abbath; it's the croaking, rough texture that's emitted out the vocalist's cords that sells this difference in tone. It helps to lend the record, in these segments, something that feels drawn out and more grounded to the earth. But it also does a job to further the notion that the evil Sisyphean are looking to perform about isn't the rudimentary kind we come to expect from black metal. There's something darker and older regarding their sound which is only accentuated by this choice in vocal variety.
What you'll pick up on rather quickly is how fast the band are playing at. The general pace at which they're playing at is pretty rapid, a brief listen to the primary riff is enough to determine that these guys aren't here to play slow ballads. But what's curious is how their songwriting consists of rapid fire tempo without their sound coming off as blisteringly aggressive. Their sound on the whole possesses this fascinating and pained dissonance that's tough to shy away from, and while the riffs are very fast, many other facets of their instrumentation and songwriting is a little more grounded so while they may hammer the riffs into it with the equivalent speed of a pneumatic drill, their drums and vocals maintain a rooted pacing. It ultimately makes for a record that feels extremely aggressive without ever really going completely off the deep end; you're still able to competently swim amidst everything the band give you and never feel like you're having to stray into dangerous waters just to keep up with the band.
But it's that dissonant, malignant quality the band harness that truly help them to stand out against the growing plethora of quality black metal releases. I frankly haven't checked out much black metal this year but, with that said, Sisyphean demonstrate how this form of extreme metal can infer so much more than even thrash or death metal could begin to touch. This doesn't merely sound evil in the respect of a malformed deity as much of classical black metal may consist of, what Sisyphean's songwriting consists of expounds elements of the natural world torn asunder. The somewhat warped guitar work that's on full display for us clearly showcases the deliberate point to the band's songwriting; it's not simply a happy by-product of their performance but a direct result of their exquisite planning. Creating soundscapes, the likes of which Colours Of Faith manages to grasp, is no easy accomplishment as these aren't easily definable, they truly are something specific to what black metal can achieve. Listening to this album is like beholding the structure of cosmic law unravelling before your eyes and revelling in its innate madness.
With a brief introduction and a just as quick fire ambient piece halfway through the album, the band effectively break up their record into two very definable sections that fans will be able to recognise and work with. I liked how quick these intermissions were throughout the album as while they give us that breather to prepare us for what us next, they're short enough that the adrenaline accumulated throughout the band's performance isn't given an opportunity to wane so while we do get that minute segment to relax, it isn't long before the band are hitting you with another slab of warped black metal. This is the kind of black metal where it's evident the band really did their homework and took the time to hone their record not merely in songwriting and production quality, but also in structure and overall presentation for their fans. If anything, it also helps to make these tracks all the more memorable because they aren't just being tossed to the wayside or thrown into the jumble of the album. The band have taken clever steps to ensure each track feels important to the album's running, thereby heightening your attention on each one that comes your way.
In conclusion, this is an album that manages to impart a lot of enjoyment without feeling like you need to devote a good swathe of time towards it. Tracks are around 5 - 7 minutes long, aside from the concluding 10 minute opus, and yet do not feel like they actually take up that much time. The songwriting is nicely fleshed out, giving each track its own identity and place within the record as well as ensuring the audience isn't going to grow monotonously bored by the band's performance. Moreover it's the band's style of black metal that really pushes their performance forward more than anything; they managed to include dissonant elements into their songwriting without it feeling like you were being tested for it. Sometimes a band may incorporate dissonant aspects but it gradually consumes the album and the dissonance can't be separated from the rest of the album, which can be a dealbreaker for some people. Herein, Sisyphean have included just enough of the dissonant elements without it feeling like it's completely integral to the album. If you were to listen to this album as a straight up black metal piece and not pay the dissonant aspect that much mind, the freedom is certainly there for you to take advantage of. The band are simply happy for you to be here experiencing their record which, their first album in five years, I'm confident many will feel the same way. Overall, this is an album that's going to have some surprises waiting for you, one that will envelop you from the first second and see to it that you become most comfortable amidst its churning and salubrious interiors. Colours of Faith is a triumph for Lithuanian Extreme Metal.