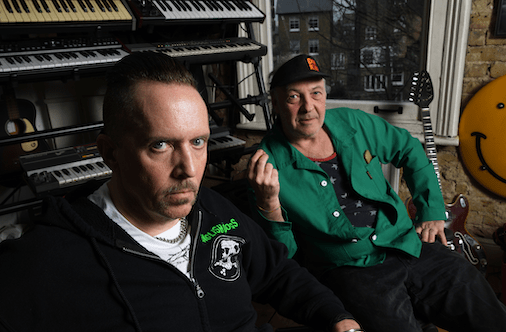 Album Review: The Imbeciles - Imbecilica
Reviewed by Dan Barnes
Even before the release of this, the band's second album, they endured the baptism of fire that is supporting Killing Joke out on tour. Not only were they playing ahead of one of the most ferocious live acts on the circuit, but also had to stand in front of a horde of vociferous KJ acolytes who mostly want support bands to shut up and get off and let Killing Joke take the stage.
If Manchester was anything to go by The Imbeciles acquitted themselves admirably, delivering a show that belies their relative inexperience as a band.
The self-titled debut, a dark and experimental album, recorded over eight Texan days back in 2019 led to the first incarnation of the band breaking apart. Undeterred, and at the suggestion of producer and Killing Joke bassist, Youth, The Imbeciles have adopted a brighter outlook for Imbecilica.
The change in direction has certainly produced a coherent and enjoyable record and, although you aren't going to find much snarling and spitting on the eleven tracks, a scratch below the surface will reveal all is not well with the world The Imbeciles are commenting upon.
The over-arching musical style on Imbecilica is pitched somewhere between an indie sound blended with the post-punk vibes of Joy Division. Across the album you'll find plenty of those indie-style riffs and clean guitar tones, notably on the instantly catchy It's Not About You and The Strokes-inspired intro to I'm Not the One.
Seek and ye shall find, and it doesn't take too long to release The Imbeciles are not averse to cranking the guitars up and lay down a meaty chug or two. Tiny Blue People complements a killer riff with weighty moments and has a flirtation with the New Wave is what is, presumably, a song about Smurfs.
Neither You're Gonna Wanna, Soldiers & Junkies nor Let's Go shy away from supplementing a seemingly commercial sounding riff with a harder edge, giving a wider tonality to the album.
To add to the broad appeal of the record, The Imbeciles have included a couple of slower, more heartfelt tracks. The first, London Rain, is an amalgam of melancholic guitars with a psychedelic accompaniment and a lyric that has more than a hint of The Beatles about it.
By rights, I Won't Let You Down should see The Imbeciles rocketing up the charts and landing spots at summer festivals quicker than you can shake a stick. The combination of an urgent rhythm section and laid-back guitars make this song into an instant classic and is, in many ways, the band's jewel in this particular crown.
The tour with Killing Joke showed The Imbeciles have nerves of steel; Imbecilica shows them to have the creative fortitude to take stock, make a course correction and head off into clearer, calmer waters. A fine album indeed