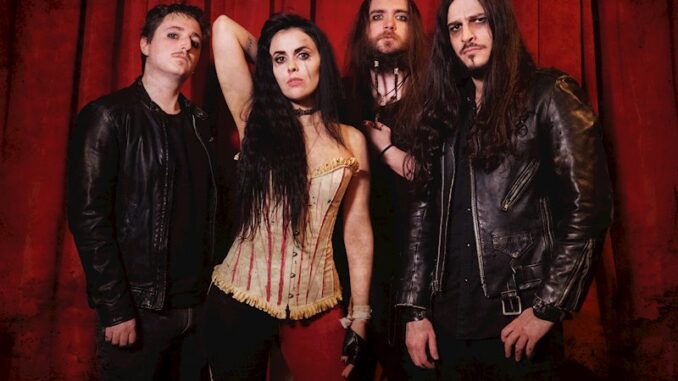 Album Review: Volturian – Red Dragon
Reviewed by Paul Hutchings
Symphonic metal is often a mixed bag. There are occasions where albums will be stunning, with fabulous vocals, dramatic and over-the-top compositions providing soaring cinematic soundscapes and uplifting melodies. On other occasions, there is a drift far too close to the Eurovision sun, and when that happens, I tend to step away.
Milanese outfit Volturian formed in 2019 and are now releasing their sophomore album 'Red Dragon'. It's a blend of all that is decent in the symphonic world, mixing darker gothic parts with the poppier, catchy segments that raise the tempo and tease you to sing along. The use of electronic layers gives it a contemporary, pop music flavour which needs some getting used to, for some of the songs sound like they should be played on daytime radio rather than the darker late night metal slots that we tend to search for.
The themes to the album are based on the Thomas Harris book 'Red Dragon', which as I'm sure you'll be aware led to the Hannibal Lecter stories and myths. The focus of the band is singer Federica Lanna, whose warm, soulful vocals are the star of the show from start to finish. She is accompanied by guitarist and keyboard player Federico Mondelli, drummer Andrea Zannin and bassist Massimiliano Rossi.
'Red Dragon' varies in tempo and style. There are big, angry riffs on the likes of 'Stay' and 'Burn it Up', but this is understated and always controlled. It's when the band get opportunity to unleash a little that they hit their peak. Volturian clearly like to let go, but you might find them doing it a bit more throughout the record.
There are plenty of more relaxed and gentle approaches as the album progresses. 'Torn Asunder' swings very much into popular music territory, accessible and poppy, 'Distant Caress' might wow new fans with its instant hooks, whilst the emotionally charged 'Bury Me' is another catchy, anthemic track that will provide wide appeal. Lanna's vocals are delicate, at times ethereal, but always with that classic style that the top singers of this genre possess.
As the album moves towards its conclusion, Volturian bring in one of their heavier songs. 'Freeze' is the penultimate track on the album and its probably one of the best songs on the album, using the combination of synths and some intricate guitar work to ramp up the power and overall feel. It's certainly a song that edges the band more toward the metal side of their appeal.
'Red Dragon' is a pleasing and enjoyable album. It's polished, perfectly produced and at 39 minutes, doesn't overstay its welcome. The songs are memorable, and the vocals stand strong from start to finish. It won't change the world, but if you like the lighter side of the symphonic metal, this is well worth a listen.