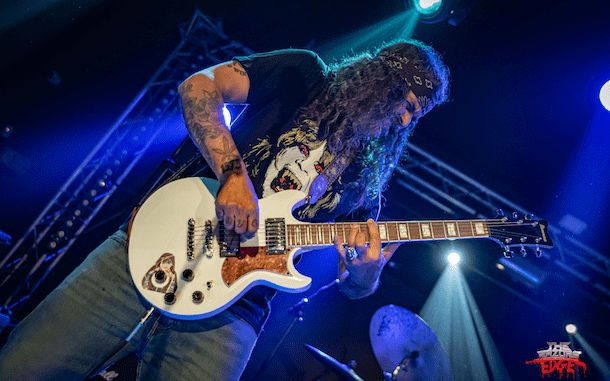 Live Review: Stöner - The Mill, Birmingham
3rd May 2022
Support: Slomosa
Words & photos: Tim Finch
Kyuss were the god fathers of stoner rock, the great ones the forged the way for so many others to follow. Back in the day too few of us got the opportunity to see them live, and whilst the Kyuss Lives tour a few years ago was a magnificent series of concerts it was not the same thing. For us stoner rock fans now, we take every opportunity to notch up the great bands members performing in their various other outfits, be it Unida, Queens of The Stone Age, Mondo Generator, Fu Manchu or the slew of other Kyuss off-shoots.
Tonight in Birmingham we have the opportunity to add another notch to the bed post. Stöner are on tour featuring both Brant Bjork and Nick Oliveri, their recent album 'totally…' had received critical acclaim, and rightly so. But how will that translate in the live arena? We shall find out!
Opening the evening are desert rockers Slomosa from Bergen, Norway, which the band describe on their Facebook page as "the leading desert country in the world". It seems they have a great sense of humour as well as taste in music so we're off to a good start!
The influence of the aforementioned Kyuss is evident through out their set. Nods to the forefathers are there from the off, but the Norwegian quartet develop their own unique sound. It's stoner rock with an added twist. The throbbing bass and fuzzy guitars you come to expect from the genre are ever present but the band add something extra. Watching their set, absorbing every minute I try to formulate words to describe their uniqueness, it's distinctive beyond words, but boy is it enthralling. A trip to the merch desk after their set is in order to pick up their self titled album on glorious splatter vinyl.
Headliners Stöner follow swiftly afterwards, With Nick Oliveri on bass and Kyuss drummer Brant Bjork on guitar and lead vocals; it's safe to say the anticipation for this show is high. There's a roar that greets the men as they take to the stage and soon launch into 'Rad Stays Rad'.
The bands sound is everything a fan of the old school desert/stoner rock bands would want, beautifully fuzzy riffs and a bass/drum line that reverberates to your very soul. They have released two albums in quick succession and have more than enough material to fill this headline slot. 'Evel Never Dies', 'A Million Beers', 'Own Yet Blues' and 'Strawberry Creek (Dirty Feet)' all get an airing.
As the time winds down the set ramps up! A cover of Motörheads 'R.A.M.O.N.E.S.' Gets the blood pumping before the night is closed out with two Kyuss numbers 'Gardenia' and 'Green Machine'.