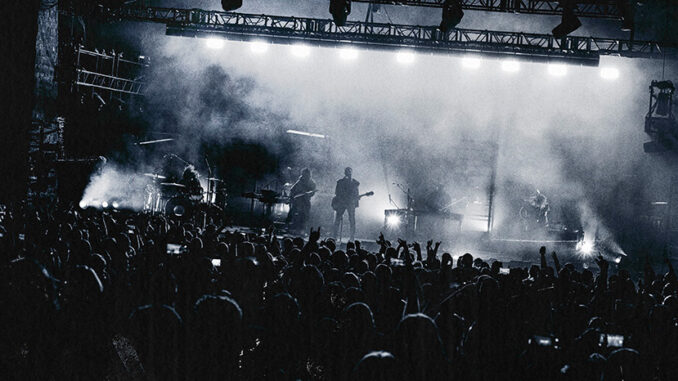 Live Review: Nine Inch Nails - O2 Apollo, Manchester
18th June 2022
Support: Yves Tumor
Words: Dan Barnes
When the stellar 2022 Hellfest line up was announced – so big it spilled over two weekends - my fervent hope was that Trent Reznor would use the opportunity to bring his industrial powerhouse over the water for a few shows. When the Eden Project gigs were announced I seriously contemplated going there and back in a day, but as it would be about a seven-hundred-mile round trip for me I reluctantly decided against it.
However, the announcement of further shows in Glasgow, Manchester and London meant that my travel time would be reduced to a little over an hour there and back if I plumped for the Apollo over in Ardwick, so that was settled.
Nine Inch Nails were a band I had long wanted to see and hadn't been able to. Last time they were in town, back in 2014, I was incapacitated by a snapped Achilles tendon and had resigned myself to chalk them off as the one that got away. But, with a ticket in hand and joy in my heart, I entered the Apollo theatre with a level of excitement usually reserved for an Iron Maiden show.
Support was given by Yves Tumor and his experimental musings in the vein Bowie and Prince as well as citing Throbbing Gristle's hypnotic trance vibes as a major influence. In the circumstances being the support to such a band as NIN would usually mean disinterest at best or hostility at worse, but the Apollo is appreciative of the effort and show them some love the whole way through.
The stage set is rather minimal and is dominated by numerous keyboards. Iian Rubin's drums are set off to the right of the stage and the rear is dominated by four large lighting units which, when used, blast the auditorium with retina-destroying illumination. Add to those the stark, hard strip lights surrounding the stage and the minimalist industrial vibes of The Day the Whole World Went Away and Every Day is Exactly the Same are given a bleak yet stark accompaniment.
There's a reverence bordering on the zealous on show tonight, directed at Trent Renzor and unwavering for the entire duration of the performance. He might well be a insanely talented composer, song-writer, performer and producer and closing in on sixty faster than he'd like, no doubt, but the fire and the passion and the madness that loom large in the Nine Inch Nails early years still imbues the performance with a massive amount of energy.
Somewhat Damaged opens the show and it's the first of five visits to The Fragile tonight; the already mentioned The Day the Whole World Went Away is joined by the delicate strains of La Mer and The Fragile as well as a raucous version of The Wretched with what seems like every voice in the place screaming the "This is what it feels like" chorus back toward the stage.
Sin and a tour debut for Something I Can Never Have are picked from Pretty Hate Machine, Gave Up and Wish from Broken and Reptile sees the light of day from The Downward Spiral. All are greeted like old friends and sound as fresh and exciting tonight as they did all those years ago when they were the soundtrack to many a disaffected youth.
But it's not just the oldies on offer, with both Ahead of Ourselves and God Break Down the Door being aired from the latest studio album, 2018's Bad Witch, fitting in among the long-term fan favourites.
Joining Trent and drummer, Iian, are Alessandro Cortini, on bass, guitarist Robin Finck and Trent's composing partner-in-crime, Atticus Ross on keys. That's the starting formation anyway, but as the show progresses so too does the expression of the musician's talent, with all moving through and across multiple instruments during the performance.
It was good to hear Burn from the Natural Born Killers soundtrack and a couple from the under-rated The Slip: 1,000,000 and Discipline, alongside Me, I'm Not and Survivalism from 2007's dystopic Year Zero.
I could grumble about the omissions of Terrible Lie, Closer, Happiness in Slavery and anything at all from Hesitation Marks, but with a back-catalogue as brimming with great tunes as Nine Inch Nails have, it would be churlish to even go down that route.
However, there are a couple of NIN tracks that cannot be left out of the show and those are main set closer, Head Like a Hole, that, after an incendiary version of Gave Up meant the show ended with a huge crescendo; and the encore of Hurt, much more a dire warning of what might have been than a cry for help, but no less effective for so being.
So, I have finally got to see Nine Inch Nails live and whether it was just in time, only history will tell. But, if this is NIN's last bout of touring outside of the US then they have gone out in the best possible manner, delivering a full-on rock show that is exceeded all my expectations going in.
And if this is what Trent and co are like after maturing, getting clean and winning Oscars, I can only imagine the unadulterated carnage that would have been a NIN show when they were young, hungry and angry at the world.