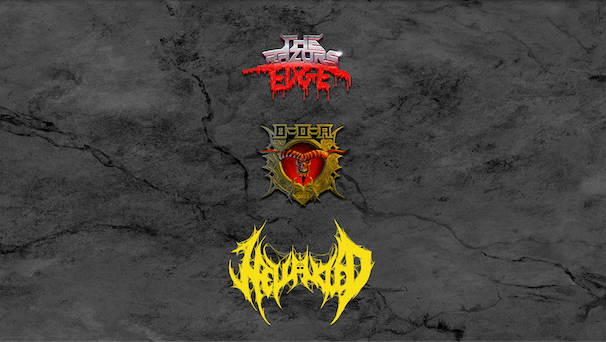 Bloodstock 2022: Introducing - Hellfekted
As Bloodstock gets closer, we delve deep into the line up to find out more about some of the bands playing the New Blood and Jägermeister stages at this years event.
Today we chat with Liam, vocalist and guitarist with Hellfekted!
The Razor's Edge: Please introduce yourself and your band mates.
Liam: Hey world!! We are the mental/drunken bastards Hellfekted!!
Me (Liam) - Singer/Guitraist
Chris - Bassist/backup Vocals
Matt - Drummer
Becky - Guitarist/Backup Vocals
The Razor's Edge: How would you describe your style of metal?
Liam: Our style of metal includes a lot especially in the new stuff! We go from thrash metal to black metal to death metal to something else and something else so it's always changing!
The Razor's Edge: How did you land your spot on the Bloodstock bill?
Liam: We were the runners up in the Metal 2 the Masses and the legend Simon asked us two weeks ago if we wanted to shred the New Blood stage!
The Razor's Edge: How tough was the competition this year?
Liam: It was a tough one because all the bands delivered what they wanted with their music and played their hearts out just like we did and the audience defo saw that and loved it!! What was amazing to see, that was shown by how three bands from Stoke have be asked to play Bloodstock this year!
The Razor's Edge: What does playing at Bloodstock mean to you?
Liam: Playing Bloodstock means so much to us! It's one of the best festivals in the UK and to play it and raise the Hellfekted flag and Unearthed Flag high in a amazing place is such a honour and we are ready and hyped to shred the New Blood stage the Hellfekted way!
The Razor's Edge: For people who've never seen you live, what can they expect at Bloodstock?
Liam: They can expect energy! We don't like standing still, we like to see movement! PITS! CIRCLE PITS! WALLS OF DEATH, CROWD SUFFERS! Literally everything! We want to make your experience a rememberable one watching us! If your old we want you feel like you were a kid again and if you're young we want you feel like you never missed out in the 80s!
The Razor's Edge: What day are you performing?
Liam: We are Shredding it on the Friday!
The Razor's Edge: What other bands are you looking forward to watching at Bloodstock this year?
Liam: Big bands - Exodus, Testament, Vio-lence, Sylosis, Malevolence, Heathen, the list could go on!
Smaller bands - our bois in Devastator, Imperium, Warlock AD, Must Kill and many more!
The Razor's Edge: Playing the New Blood Stage is just the first stepping stone in a bands journey. What's next in your plans for world domination?
Liam: Our next plan is to tour Europe which will be sooner than we thought! 😏
The Razor's Edge: See you at Bloodstock in a few weeks!
Liam: SEE YOU AT BLOODSTOCK ON THE NEW BLOOD STAGE! FRIDAY!! BE THERE!!