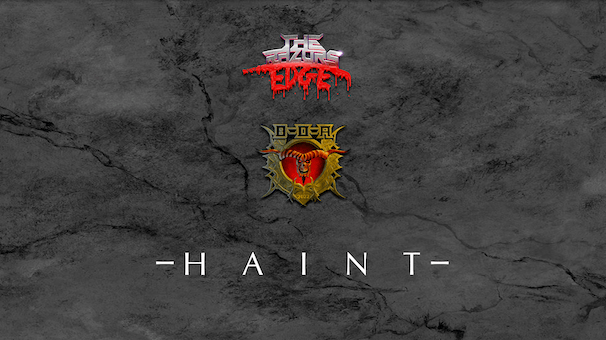 Bloodstock 2022: Introducing - Haint
As Bloodstock gets closer, we delve deep into the line up to find out more about some of the bands playing the New Blood and Jägermeister stages at this years event.
Today we chat with Haint!
The Razor's Edge: Please introduce yourself and your band mates.
Haint: We are Haint, a 3 piece band from Belfast. Darren - Bass/Vocals, Steve - Drums, Ian - Guitar/vocals.
The Razor's Edge: How would you describe your style of metal?
Haint: It changes depending on who you ask. But we've been told we sound like Mastodon jamming Meshuggah songs. Lots of dynamics, odd time signatures and big riffs.
The Razor's Edge: How did you land your spot on the Bloodstock bill?
Haint: We won the Belfast M2TM back in May.
The Razor's Edge: How tough was the competition this year?
Haint: The competition in Belfast is always brilliant, and it is a tough competition. The bands over here really have pushed themselves during the last two years of nothingness. So every band was on point and super tight.
The Razor's Edge: What does playing at Bloodstock mean to you?
Haint: It's an honour to start. Bloodstock is very focused and loyal to the people who come to it every year. No other festival would invest as much in the wider local talent. It means a lot to be part of it.
The Razor's Edge: For people who've never seen you live, what can they expect at Bloodstock?
Haint: Lots of big riffs, and big vocal hooks. We like to keep people guessing on whats coming next with each song.
The Razor's Edge: What day are you performing?
Haint: We are playing on Friday.
The Razor's Edge: What other bands are you looking forward to watching at Bloodstock this year?
Haint: We can't wait to see our friends and Belfast buddies Nomadus on a big stage. Otherwise....wow. Where do start? Main ones would be Testament, Jinjer Life of Agony and Killing Joke.
The Razor's Edge: Playing the New Blood Stage is just the first stepping stone in a bands journey. What's next in your plans for world domination?
Haint: For us it will be getting our first EP finished and then some touring. We've a few mainland shows in the pipeline towards the end of the year.
The Razor's Edge: See you at Bloodstock in a few weeks!
Haint: Can't wait. See you all then!