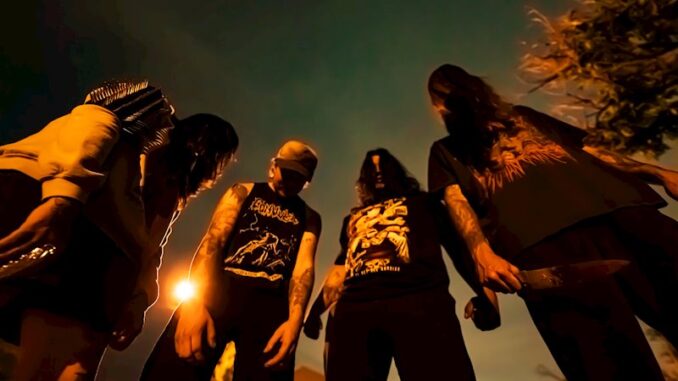 Album Review: Fleshrot – Unburied Corpse
Reviewed by Rick Eaglestone
Texas' Fleshrot return to bludgeon and lacerate with debut album 'Unburied Corpse'.
First cut 'Wrapped in Entrains' is purposefully tormenting and full of ominous menace, its slow crawl into maniacal 'Intricate Dissection' is done so effortlessly that it hard to comprehend that the band only formed in 2019.
Up next is my highlight track of the release 'Draining the Liquified Remains' the seeping guitar, chugging bass and skull splitting drums perfectly encapsulate everything this album is – violent and maniacal.
Title track 'Unburied Corpse' sounds exactly like the type of thing I drove my parents mad with in the early to mid-90's it is so murky and makes me pull all kinds of ugly faces and it pounds through my speakers, highlight track for me right there. This is then followed by the relentless 'Post Burial Extractions' which by the end feels out like a workout all by itself.
It's at the point of the album that I must take a minute and embrace the butchery and acknowledge that for a debut album this ticks all the boxes, the production is tight, and the musicianship is just first class but whilst I'm trying to collect my thoughts the lumbering juggernaut that is 'In Filth and Pain' bellows through rudely dragging back into this murky swamp of death.
The album concludes with yet another strong track 'Haunted of Sick Depravities' and just like the constant unrelenting punishment of the last thirty minutes is over and I do not might admitting that I immediately want to start the entire process again.