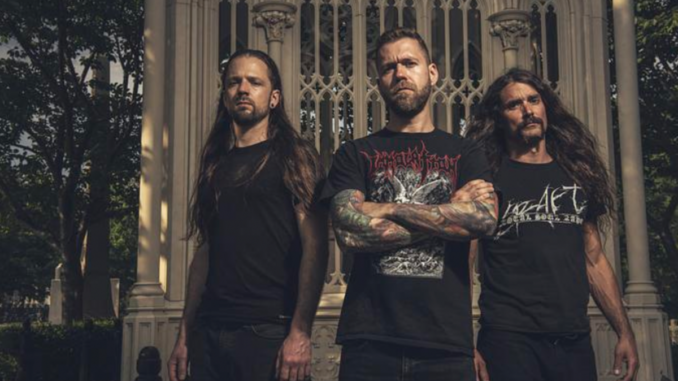 Album Review: Revocation - Netherheaven
Reviewed by Daniel Phipps
Revocation have been around the block a fair bit since their formation back in 2006. Countless tours alongside legendary bands all around the globe and a huge back catalogue of releases already to their name before the Boston band are set to release their 8th full length album, which has been 4 years in the making titled Netherheaven.
Coming out the gates at full throttle Revocation opens Netherheaven with 'Diabolical Majesty'. The track which also recently had a video released is a relentless slab of classic sounding death metal which grips you from the start as the Boston band fly through the track and set an extremely high bar for what is to come. The bar is high and it's easy to say that the high bar is continued throughout Netherheaven. Revocation has previously always seemed to me a band towing the line between thrash and death metal, however this record really brings out a heavy dose of pure relentless death metal, with Netherheaven really showcasing an extremely classic style of composition however ensuring that it sounds fresh.
When tracks such as the aforementioned opening track or the albums closing track 'Re-Crucified' (which features George Fisher and the late Trevor Strnad) are not relentlessly crushing you Netherheaven, offers you super catchy tracks which feature strong crushing riffing and killer hooks, which brings out a more sinister atmosphere for the record which also offers an extremely heavy progressive element which is found more towards the middle of the record highlighted by instrumental track 'The 9th Chasm'. The record's production is absolutely flawless as each riff sounds crystal clear, the drums have a huge sound and the vocals cut through with extreme severity.
Netherheaven may very well be Revocation coming into their own, the 4 years they have spent crafting the record has seen them turn out a truly interesting, diverse and utterly breathtaking death metal record.