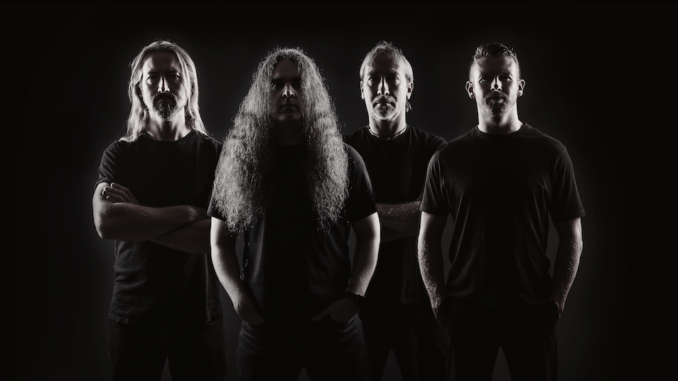 Album Review: Strangle Wire - Shaped By Human Frailty
Reviewed by Daniel Phipps
Northern Ireland's Strangle Wire are a band who I was shocked to learn had not been around for years. Having seen them live previously they came across as an extremely tight veteran unit creating solid early 90's style death metal, so it was a surprise that they only formed in 2017. The band who have one prior release which was an EP in 2018 have a debut full length coming titled Shaped By Human Frailty.
From the go Strangle Wire attack with pure venom on Shaped By Human Frailty as the Northern Irish quartet come out of the gates firing with their display of razor sharp old school brutality. Strangle Wire excel at creating an extremely crisp and tight set of tracks which echo in the vein of U.K. death metal legends such as Benediction and Bolt Thrower with a touch of early Cannibal Corpse thrown into the mix. Strangle Wire hone into that classic 90's style death metal with Shaped By Human Fragility and the band are able to craft a series of ferocious tracks which are packed full of cracking hooks and grooves. Most importantly the band add their stamp to the song writing as to not offer a carbon copy and keep the sound feeling fresh and relevant for 2022.
As I go through the album the one factor that instantly grabs me are the vocals as front man Pete offers a truly monster performance. His brutal vocals offer that deep low end tone but with the ability to still offer pronunciation throughout, they remind me an awful lot of Cannibal Corpse and ex Monstrosity front man George "Corpsegrinder" Fisher.
Another huge plus for the record is how the guitars and drums work together seamlessly both with the song writing and within the mix. Both elements offer flares of sheer ferocity such as on 'The Human Tensile Experiment' which is probably the most savage track in my opinion on the record. Along with that ferocious edge both the guitars and drums are able to create the grooves which are littered throughout the record. The grooves are really solid and work so well in contrast to the rest of the song writing, take 'Dead Before The Still' as a prime example.
If strong, tight rhythms and groove are what you look for with your death metal then Strangle Wire will definitely hit the spot. Shaped By Human Frailty offers a really well written slab of classic sounding brutality which feels fresh and exciting instead of living in the past.