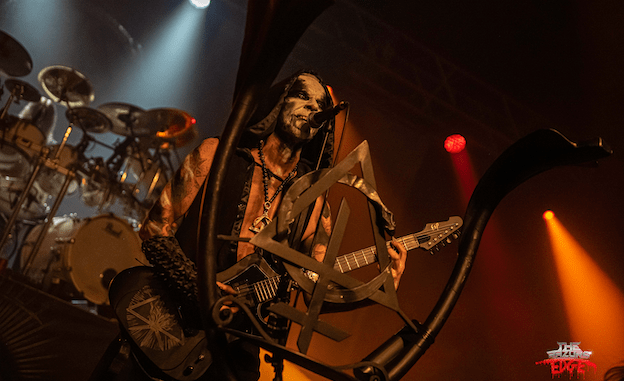 Live Review: Behemoth - O2 Academy, Birmingham
30th September 2022
Support: Arch Enemy, Carcass and Unto Others
Words: Matt Noble
Photos: Tim Finch
Train strikes and a 6:10 start doesn't prevent Unto Others from playing to a healthy chunk of the crowd tonight. The Portland quarter aren't one I'd listened to before, but I'd heard lots about them from many of my gig-going friends, noticing them crop up on more and more lineups. Their sound wasn't quite what I'd expected it to be, but nonetheless I was very impressed with their performance. Starting with the Misfits-y 'Heroin', a melodic, upbeat goth-punk banger, they open the night on an energetic tone, with good lead as well as harmonised vocals.
The twin-guitar attack and drum performance is also fantastic. With double bass drumwork, screams, tremolo guitar playing and the occasional blastbeat thrown in for good measure, there is a fun, metallic modern edge to their vintage goth rock style. Super tight and well rehearsed, they control the dynamic changes masterfully and the short instrumental rests are down to the microsecond. The energetic 'Nightfall' is one of the best songs of the set, and the first circle pit of the evening erupts during 'Summer Lightning'. Playing like seasoned veterans, it comes as a surprise when frontman Gabriel, looking the part with dark shades on his face, explains that it's only the band's second Birmingham show. Get used to seeing them around - they're on at next year's Bloodstock if you missed out this time.
On the performance, crowd energy and stagemanship alone you might think that Liverpudlian legends Carcass were the main attraction. Jeff Walker's presence as frontman is striking from the word go, getting the crowd chanting and feeling involved pretty much straight away. Though he moves around less these days, he is still a real character at the centre of the stage, throwing out guitar pick after guitar pick with joyful smiles on his face - the flipside to that being the way he glares at the audience while performing vocals, commanding unwavering respect. Self-aware in his humour, he half-apologetically makes a joke about how they 'have' to play a new song, before launching into 'The Scythe's Remorseless Swing', the popular closer from last year's 'Torn Arteries'. It's not that the reunion material is badly received, or does anything to tarnish what had come before the two 21st century albums - much the opposite, really.
You can't deny, though, the way that the iconic drum intro to 'Corporal Jigsore Quandary' rouses a massive cheer, and when 'Heartwork' kicks in it's truly spine-tingling. They know their crowd and what they can't get away with leaving from the set. The guitar work is on point, with a wonderfully crunchy tone and a schooling in all things shred from Bill Steer in particular. Part of what makes Carcass such a good live band is the clear camaraderie between the members onstage, helping them to win over a large proportion of the neutrals here tonight and it's hard to make a case for Carcass not being the best band of the evening. They haven't lost a modicum of ferocity over their 35 years.
The curtain's up for Arch Enemy, as a creepy piano tape intro plays before their high-octane melodic death metal showcase kicks in. Members of the audience chant the band name, and the first crowdsurfer of the night goes flying past, with Alissa White-Gluz the clear focal point of the show. An excellent and engaging frontwoman, her command of Arch Enemy's loyal fans and stance at stage centre is enviable for any metal lead vocalist. Her lyrical message is uplifting, making for a good few moments where you can really feel the sense of togetherness in the room tonight. She has great pipes, too, matched only by the blistering dual-guitar attack of Michael Amott and Jeff Loomis. They trade off guitar solos and harmonise effectively, with a clean solo from Jeff making the hairs on the back of your neck stand up before Michael teams up with him to segue into a blistering 'Nemesis'. Jeff is simply one of the guitarists of his generation. Do they all add up to the sum of their parts? This is extreme music, but designed for huge crowds, and venues bigger than this one. The charisma and sense of melody lines up with this, but not all present are on side tonight. There's a split between the rabid hordes in Arch Enemy t-shirts and a minority of the crowd - unlike the way that Carcass seemed to completely win over the neutral, bands like which have found success in spite of their nuance and individual sense of heaviness.
At the set's close, one could argue they tell rather than show as Alissa waves a flag with 'Pure F*cking Metal' written in big letters. Regardless, it's still a triumphant performance and the likes of 'Ravenous' and 'The Watcher' go down well - there's plenty of good, intense new material from the quintet as well as the classics that define Arch Enemy shows. The singalong and participation that goes into 'Sunset Over The Empire' is hard not to be impressed by, and the moshpits are next-level for 'As The Pages Burn'. Amott et al. won't be worried by the doubters.
As 'Post-God Nirvana' blares over the speakers, Behemoth stride on before launching into the modern classic 'Ora Pro Nobis Lucifer'. Dancing around the stage like a living metal god, 'how you doing, Birmingham?' roars Nergal to a rapturous response. It's a fantastic, energetic display of how to hold an audience, getting a sea of fists to virtually take permanent residence in the air, treating the floor and balcony as if we're all close acquaintances, if not a family. Like Alissa before him, few lead a metal show as well as he does. The smoke machines, along with the Satanic microphone stands, overall make for an atmospheric backdrop to Behemoth's show, helped by an awe-inspiring light display.
As Nergal is anointed with a blasphemous crown of skulls for 'Bartzabel', Behemoth prove that the show is not all about what's on the eye, with backing vocals from both Orion and Seth that are as good as the studio recording itself. Indeed, the band are razor-tight, not a blastbeat or tremolo-picked guitar melody out of place. In a scene of stony-faced extreme/blackened/whatever metal bands, Behemoth still inject some fun into their performance. Nergal jokingly asks for peace signs from the audience, before raising his middle finger as his 'own' peace sign. The audience completely lap it up, joining in with him.
For a lot of people, it's their first chance to hear material from 'Opvs Contra Napvtram', still only a couple of weeks old. The epic 'Versvs Christvs' goes down extremely well towards the end of the set, and 'Off To War!' already seems like a live staple of tomorrow for Behemoth. It's a shame that the likes of 'Slaves Shall Serve' or 'O Father O Satan O Sun!' are forsaken, but they can hardly promote an album without switching up the setlist (both were played at Bloodstock!). In any case, the epic intro to 'Blow Your Trumpets Gabriel' sees a crowd response that shakes the O2 to its foundations and the crowd chant Behemoth's name as 'Chant For Eschaton 2000' begins to die away. Confetti falls over the audience, cementing a masterful, engaging and energetic display of blackened death metal by one of the best ever.