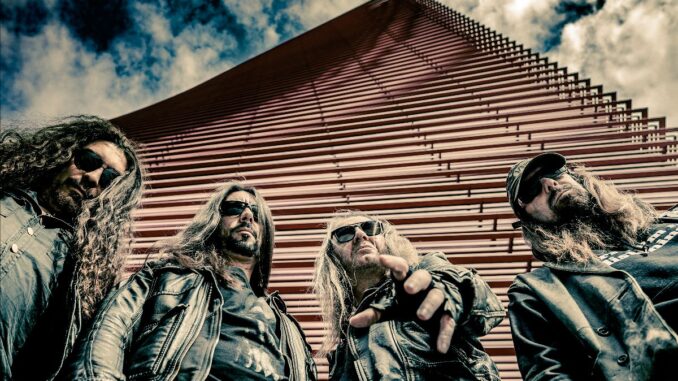 Album Review: Necrodeath - Singin' in the Pain
Reviewed by Richard Oliver
Necrodeath are one of those bands who have been highly influential but criminally overlooked by a good percentage of the metal fanbase. They are one of the very first extreme metal bands to come out of Italy and a band that helped formulate the black metal sound during the 1980's with a handful of cult classic releases during that decade such as The Shining Pentagram demo as well as the albums Into The Macabre and Fragments Of Insanity. The band split up in 1990 but reformed in 1998 and have continued to this day with album number twelve Singin' In The Pain due for release at the end of 2022.
Singin' In The Pain is a concept album based on the movie "A Clockwork Orange" by Stanley Kubrick, where the band takes us on a one-way black-thrash journey, soaked in immorality and violence, and back to a vain attempt at redemption and normality. The album is made up of nine tracks which are linked together by the narrating voice of Tony Dolan of Venom Inc. and supported in the finale by the presence of Eric Forrest of E-Force. The music is very old school sounding with loads of ripping old school thrash riffs mixed with that blackened edge which can be heard in facerippers such as Gang Fight, Redemperdition and Antihero.
Some of the songs have a playful edge to them such as Delicious Milk Plus and Oomny-Ones which feel a bit more light hearted as well as having plenty of intensity to them. This line-up of the band has been in place since 2008 and is a well-oiled thrashing machine with the savage riffs and unhinged solos of Pier Gonella, the deranged throat shredding vocals of frontman Flegias, the thundering bass of GL and the chaotic yet precise drumming of founding member Peso.
Singin' In The Pain is another solid release from Necrodeath. It lacks a bit of focus at times and some of the songs don't stick in the mind as much as others with the really fast and ferocious tunes being the highlights for me. It has a raw charm to it with the band sounding unapologetically old school which is always a plus point for an old school thrasher as myself. This is not the most essential of Necrodeath albums but it is a great listen and tremendous fun.