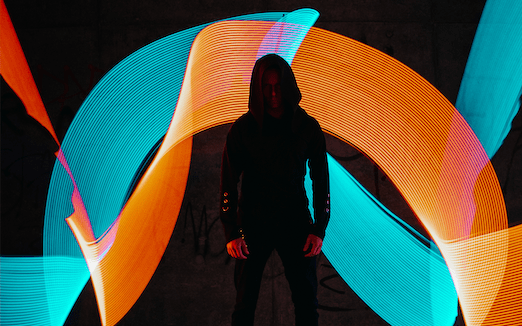 Swedish Metallers Norrskold Unveil New Video
Swedish metallers Norrskold have released the video for the track "Beyond The Night", taken from their new album 'Prisma Aeternus', which is set for release on November 7th 2022!
Speaking about the track, mainman Henrik Bodin-Skold has said:
"The song "Beyond the Night" was one of the first songs written for the new album 'Prisma Aeternus'. The aim of the new songs has been to focus more on melodies and straightforward catchiness while maintaining the classical Norrsköld atmosphere. Lyrically the song fits into the overall theme of the album, depicting the fall of mankind as failed rulers of a world we keep on devastating."
Check out the video here!
Deriving from the cold forests of Sweden, Norrsköld began as a studio project in 2013 by Henrik Bodin-Skold, blending atmospheric black metal with melodic death/folk metal and picking up comparisons to Dissection, early In Flames and Emperor. Norrskold have gone on to tour across Europe, including in support of Nightrage and Amon Amarth.
Norrskold's debut EP 'Blessing Of Winter' came out in 2013, and its core lyrical themes touched upon Scandinavian folklore with tracks like "Night Crystals" and "Dreamless", both depicting historical supernatural events recorded in the world of past generations. The EP, generally recognized as pagan black metal, was warmly received by critics.
Following up their debut EP, Norrsköld's first full-length album 'Reflections Of The Night Sky' was released in 2014 and saw them opting for a more optimistic world view. The album contains more intricate, epic folk metal compositions. Lyrically, the theme of folklore was accomplished by the depictions of a life in the harsh Swedish climates. The debut album was reviewed broadly in the international metal media as well as in one of Sweden's biggest metal magazines, Sweden Rock Magazine.
Norrsköld's second EP 'Ridden', released in 2015, contains two instrumentals and two lyric based songs. The title track "Ridden" became one of the band's most beloved songs among their growing fanbase. Their second full length album 'Withering Virtue' came out in 2017 and is their most ambitious album so far, with live classical orchestral musicians joining the record. A 12-song album of piercing melodic black/folk metal, reviewers emphasized the fact that Norrsköld continues to spread a uniquely catchy yet brutal melodic metal sound.
Norrsköld's upcoming third album 'Prisma Aeternus' is set for release on November 7th 2022 and leans towards an explosive melodic black/death metal vibe, with artwork made by virtuoso Niklas Sundin (ex. Dark Tranquillity). The album shows a new dimension of the band as the songs have transcended into an even more melodic state while also providing some of the heaviest compositions the band has ever written. Being a concept album, the lyrics cover a dystopian observation of the rise and fall of mankind in relation to the evolution and destruction of Earth.