DEVIL'S ISLAND featuring Beneath The Embers
Welcome to this weeks edition of Devil's Island! Every week we maroon a band or artist on the island and see what they get up to, how they cope with being all alone on a small island in the middle of the ocean. It's not your average desert island and we'll see just how each person copes with the extreme conditions.
This week when we arrived at Devil's Island we find Beneath The Embers sat on the beach. The island is far from their home, so how did they end up here and how did they cope with life on Devil's Island? 
Find out now...    
Welcome to The Razors'e Edge and our somewhat lovely, warm desert island. Don't worry about it's name I'm sure it's not as bad as that would suggest. 
You're marooned here on this island, but before you ended up shipwrecked you chose one album that you couldn't live without. Which album did you each chose and why?
Lewy: Think it's got to be 'City of Evil' by Avenged Sevenfold. It was one of the first albums I bought myself as a kid and it really opened my eyes to the Metal universe. The dual guitars and incredible vocal range really hooked me in and it has to be my favourite album of all time.
Spencer: Whitesnake s/t as it was the first metal album I bought.
Clint: Guns n Roses 'Appetite For Destruction', the reason I play guitar and a tune for every occasion!
Quentin: Opeth's 'Blackwater Park'. it has everything. It opened new doors for me in appreciation of extreme metal. And Mikael Åkerfeldt is a genius.
Liam: Dream Theater 'Scenes From a Memory'  This album has stood the test of time, for me as a musician, from when I first heard it up until today. Put simply, this is an absolute masterpiece, I love the concept behind it and the way all of the songs flow together, it is truly untouchable in my opinion!
Just behind that palm tree is a shack for each of you to stay in, with enough space for you to put up a poster on the wall of one album cover. What album cover do you each chose?
Lewy: 'Creatures' by Motionless In White because its such a cool album cover and another album that has influenced me throughout the years.
Spencer: Beneath the Embers, 'Condemned'.
Clint: 'Master of Puppets' to remind me of why and how I got into heavy metal and that style of guitar playing.
Quentin: Huge versions of 'Somewhere in Time' or 'Powerslave', because of the details that are  in these covers is amazing. As a kid I'd spend ages gazing at the intricacies of each one trying to find all the subtle references.
Liam: Nightwish, 'Imaginaerum'. Another one of my favourite albums, the cover art for this is absolutely incredible. The epic, soaring gates, illuminated by the light of the moon, it really is a thing of beauty!
There's also a bar on this here island. But alas each of you only get to choose one drink for the entirety of your stay. What's your tipple of choice?
Lewy: Spiced Rum and coke all day or one of our own BTE IPA's!
Spencer: Any Fruit Cider.
Clint: Beneath The Embers British IPA of course, the best beer on the planet!!!
Quentin: Since I've already instigated it among us, it would have to be the Dark and Stormy! Which is Spiced Rum/Kraken, ginger ale, over ice with a couple of slices of lime and a dash of Angostura bitters. I'll be amazed if I'm the only one who says this and it's aptly named for why we ended up on the island, and what else does a pirate drink?!
Liam: Double Kraken and Coke. Spiced rum is number one, with just a dash of coke so as to not kill the taste… a nice glass of chianti is a close second, however!
Your suitcases were lost when your ship sank, but you each managed to salvage one item of band merch. What's the merch and for what band?
Lewy: One of our own tops, so when we come across a tribe on the island we can trade it for rations of food.
Spencer: My Beneath the Embers Beanie.
Clint: My very first Metallica sleeveless T for the memories and the fact its still around 30 years later!!
Quentin: I dunno, a Skid Row t shirt? Because 'Is it all just Wasted Time? Can you look at yourself when you think of what you've left behind?'
Liam: Karybdis TShirt, local melodic/progressive death metal band who have awesome merch, I wear that shirt all the time!
You're sat on the island thinking "I'm stuck here on this island with my bandmates for eternity"… who would you rather have been shipwrecked with?
Lewy: No one, Band is familySpencer: Ozzy Osborne, they guys a legend.
Clint: If it wasn't my band bros it would have to be my immediate family but to be fair that's all one and the same thing now lol!
Quentin: Nobody! Aside from a few best mates and my fam, these are my bros. each of us has a unique outlook on life too, so there's never a dull moment.
Liam: My partner Freya, she'd help to keep me sane!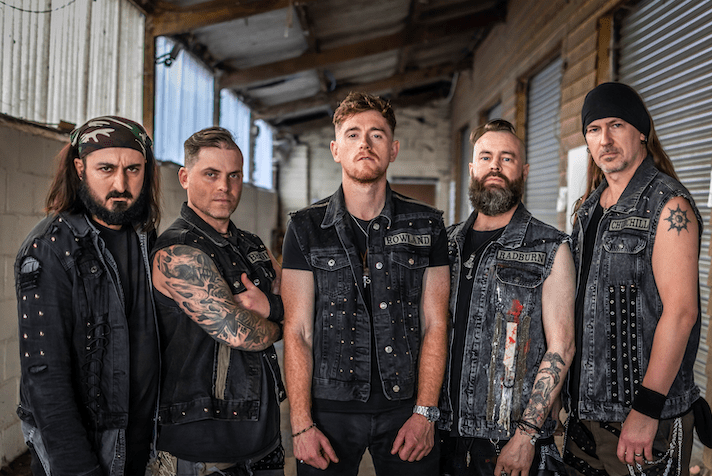 There's a walkman in your pocket, on the tape inside is the recording of the one live show that stands out for you. It could be any show, from any band, anywhere in the world. What show is on that walkman?
Lewy: Tough one but it's got to be when we played The Art Centre in our home town supporting King 810. However for me seeing Wage War support Of Mice & Men at The Waterfront in Norwich was a pretty incredible gig... But there is so many to choose from and so hard to decide on one that really stands out.
Spencer: Alter Bridges first UK show at the ULU in London.
Clint: Machine Head at the London Astoria 2003, just wow the pit was something else that night.
Quentin: What's a walkman??? It's Live After Death by Maiden. I don't think I've ever listened to any other live album as much as that one cos they're mostly shite!
Liam: Pulse: Pink Floyd, I remember the first time watching this live show on VHS and I was blown away. It's a shame that I wasn't born when they filmed it!
You're getting desperate, you decide the only course of action is to put a message in a bottle and hope someone finds it. Your message could be to any member of any band, but should be the most suitable for a rescue attempt. Who is it?
Lewy: Well I think it's got to be Bruce Dickinson because he's got a huge plane to come pick us up!
Spencer: Clint, as he could call in a military search and rescue team.
Clint: Sorry guys it has to be Spence for this, me and him are kindred spirits when it comes to stuff like this and the most reliable man on the planet.
Quentin: Definitely Alestorm! They're bound to be on a pirate quest and will no doubt have a ship fully replete with more rum!
Liam: Clint , because he's in the army, and has access to helicopters!
You've been stuck here for a while and food supplies are running low. There's only one thing for it... which fellow band member gets sacrificed to help the others survive?
Lewy: Spencer because he's the tallest and then I won't be second tallest anymore lol
Spencer: I'd rather starve.
Clint: This would be between Lewy and Liam because they are young, fit and would probably taste better than us oldies!
Quentin: To be honest, it's me, isn't it? Lewy's too skinny, Clint isn't lean enough, Liam will talk his way out of it, and Spence is the only one that can cook! From that point of view I hope Josh, our soundman, is with us. Haha, he'll hate me for saying that!
Liam: Quentin, he's got the most meat… sorry!
Finally, when the ship sank you each managed to save one person from the wreckage. That person is the one musician that has influenced your career the most, shaped your way of thinking and your outlook on life. Who did you save?
Lewy: Really tough question but I would have to say Synyster Gates from Avenged Sevenfold but from a vocal point of view its probably Chris Motionless from Motionless in White.
Spencer: Tommy Aldridge
Clint: If you had asked me this before we released Condemned I would have a different answer. However now I would save Chris Clancey he has single handily effected all of the above for BTE, we would not be here now musically if it wasn't for him.
Quentin: Sorry I chose two. Devin Townsend. A humble human with a very grounded attitude. His level of skill and knowledge of the guitar is second to none and he believes the ethos that just because you can play a hundred notes at a hundred mph, doesn't mean you should, when five will exude just as much - or maybe more - emotion. But, total opposites, maybe Lemmy. He is the only person on the planet that lived and breathed rock n roll for every waking minute of every day. His attitude to life was all about the music, forsaking everything else, and I can't fault that level of dedication!
Liam: Lemmy, Motörhead were the first band I ever saw live, and his style and attitude were so influential, that was the day I decided to become a bass player!