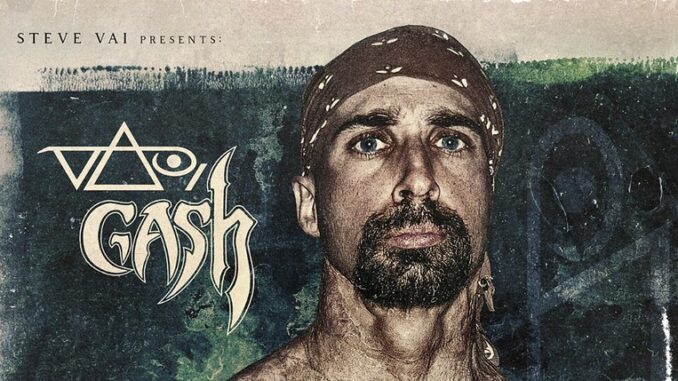 Album Review: Steve Vai – Vai/Gash
Reviewed by Dan Barnes
The provenance of this album is a long story but is basically a collaboration between Steve Vai and motorcycling buddy, Johnny "Gash" Sombrotto. Originally written and recorded back in 1991, following Vai's tenure in Whitesnake and his own Passion and Warfare record, and intended as both a tribute to the music he grew up with in the Seventies and the tunes he wanted to listen to as he rode his Harley.
Having worked with the likes of David Lee Roth and David Coverdale, both titanic vocal talents and born rock stars, this album represents something of a switch of gears. Johnny Sombrotto might not have had the same level of expose of the two Davids, but he could certainly stand toe-to-toe with either as a singer.
Created in a stream of consciousness manner, according to Vai, this is a record on which the Guitar God plays a supporting role to the music. Beginning with the cranking blues and bar-room piano of In the Wind, the short and snappy eight-tracks whisk you back to a time when Rock music was big and brash and the soundtrack to a good time.
Before the dark days; before Grunge
Busted comes across like Vai's version of Golden Earring's Radar Love; Let's Jam and Danger Zone are chest-beating, hard rock biker anthems, the latter buzzing like a an engine ticking over, complete with dirty riffs and raw vocals.
Woman Fever is a blues progression with its tongue planted firmly in its cheek; She Saved My Life Tonight may well have found chart success had it been released at the time, and New Sensation feels somewhat out of place by being too much of its era.
No self-respecting hard rock album of the late Eighties or early Nineties would have been complete without a big ballad and Vai/ Gash isn't about to short change us. Flowers of Fire is the kind of epic tune custom-built to feature at weddings for years to come. Acoustic intro and a big chorus, it's a lighters in the air track akin to I Remember You or Every Rose Has It's Thorn and would likely have played its part in a population explosion in the years following its release.
Gash's vocals throughout are perfectly suited to the music. Whether that be the raw, pumping tracks or the more calm, measured deliveries, it signifies a singer with much to offer. His interaction with Steve Vai is confident and the whole of the album feels like a partnership rather than him coming over as a hired gun.
For his part, Vai's presence is more understated. His obvious talent shines through in every note, but it's never indulgent or distracting and gives Gash space to explore.
Sadly, Johnny would lose his life follow a motorcycle accident in 1998, and this record is finally being released as tribute to him and his rebellious attitude to life. The story of how this album came about and why it's seeing the light of day on 2023 is beyond the scope of this review, but is a fascinating tale, which I urge the interested to seek out.
Ultimately, regardless of the intended homage, now this collaboration has been released, it will stand and fall on its musical merits; luckily, it's the kind of hard rockin' record the world needs right now.