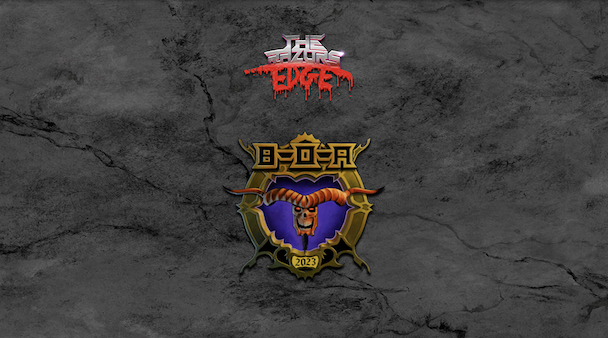 Bloodstock Festival Adds Next Wave of Bands For 2023
What better to see the back of 387 chilly days of January than BLOODSTOCK announcing the final Ronnie James Dio main stage and Sophie Lancaster stage bands joining the bill, as 2023's hottest metal weekender edges ever closer. Not only that, there's info on how to work a couple of shifts to get free BLOODSTOCK tickets, a brand new trailer to watch, plus day tickets will go on sale tomorrow! And did we mention the Vikings are coming?!
With 14 bands to reveal, on with the details! Not familiar with someone? Just click the band name and you'll be whisked off to one of their YouTube videos to bring you up to speed. Maybe you'll find a new favourite not to be missed!!
Completing Friday's Ronnie James Dio main stage line-up are noted doomsters WITCHSORROW who get the day started in fine fettle, plus Lancaster rockers WYTCH HAZEL, and Polish blackened death metal beasts HATE.
Very welcome on Saturday's main stage are Swedish rock ruffians ROYAL REPUBLIC, and highly acclaimed Woking metalheads EMPLOYED TO SERVE. ETS vocalist Justine Jones enthuses, "We're delighted to announce that we are playing Bloodstock for the very first time. We can't wait to fly the flag for heavy metal along with the world's finest talent on the main stage. See you in the pit!"
Bringing their fusion of black, goth, and death metal to Sunday's main stage, are Swedes TRIBULATION.
Lots of talent to reveal for the Sophie Lancaster stage on Friday! First up, the Grammy-nominated, epic doom pioneers CANDLEMASS, who step in to headline proceedings in a UK exclusive performance, replacing WHITECHAPEL who are unfortunately now unable to appear. Opening the day's riffage will be Lancs death metal squad BLOODYARD. Joining them are black/crust Mancunians WOLFBASTARD, nu-metalcore tribe BLACK COAST, "Russian Turbo Polka Metal" ska-punkers RUSSKAJA from Austria, Portuguese extremists GAEREA, plus Canadian heavy/power metal crew STRIKER!
The final slot on Saturday's Sophie Lancaster bill goes to Bristol/Brighton thrash/hardcore gang SKIN FAILURE, who include two ex-Black Peaks members in their ranks.
BLOODSTOCK's 2023 Ronnie James Dio main stage headliners are rounded out by none other than KILLSWITCH ENGAGE and MEGADETH. Also appearing are IN FLAMES, DEVILDRIVER, ANTHRAX, BIOHAZARD, SACRED REICH, HEAVEN SHALL BURN, SEPULTURA, WHITECHAPEL, FIT FOR AN AUTOPSY, CROWBAR, SEETHING AKIRA, UGLY KID JOE, DECAPITATED, GATECREEPER, ZEAL & ARDOR, KING 810, UNTO OTHERS, URNE, ALL HAIL THE YETI, DEAD LABEL, NONPOINT, CHURCH OF THE COSMIC SKULL, BROTHERS OF METAL, GUTALAX, UUHAI, INVISIONS, COBRA THE IMPALER, and TROLLFEST. Many more are yet to be announced.
With tickets selling faster than ever for 2023, all VIP packages and campervan passes are already sold out. Grab your weekend tickets now at the ticket store.
Get full festival information at bloodstock.uk.com.
BLOODSTOCK will take place at Catton Park, Derbyshire on 10th-13th August 2023.