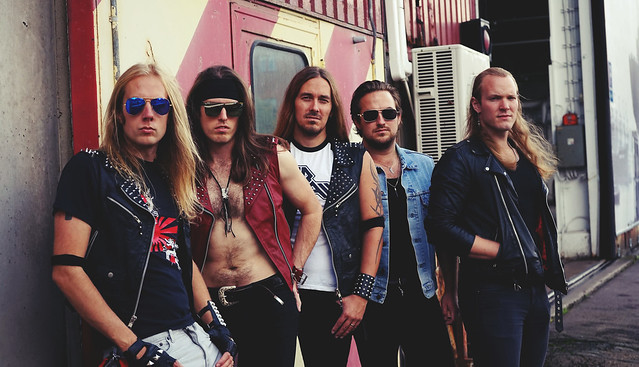 Album Review: Air Raid - Fatal Encounter
Reviewed by Sam Jones
One of the perks of my reviewing records, is I get to check out bands I've never previously encountered. That much is true when my gaze turned to Sweden's traditional metal outfit, Air Raid, seeking to release their fourth a full length release: Fatal Encounter. Formed in 2009 out of Västra Götaland, Air Raid have been steadily active throughout the last fourteen years releasing Demos and Eps before seeing their debut album, Night Of The Axe, see the light of day in 2012. Following on, Air Raid had a slew of successive releases with 2014's Point Of Impact, and 2017's Across The Line. A change of lineup soon occurred though, with new Bassist Jan Ekberg and Drummer William Seidl coming into the picture, which brings us to 2023's Fatal Encounter, a full six years since their last album release. Sweden are renowned for having a vibrant traditional metal scene and if they're anything like their fellows, Portrait, I was excited to see what would ensue.
It's been a hot minute since I checked out some old fashioned heavy metal and Air Raid demonstrates why the traditional sound will never, ever fall out of fashion. The band's riffs and guitar tone feels wonderfully retro whilst still packing a modern punch through its mixing and production quality. Air Raid evidently understand that you can't just rest on your laurels nor rely on fans' adoration of old school sensibilities for your songwriting to hit the spot. The guitar work has this dense soundscape to it that allows their sound to feel like it's got a considerable weight behind it, yet it isn't so compact that it comes off as too heavy on our shoulders. Listening to this record requires very little effort as the band's songwriting often meanders through harder hitting riffs and some lighter licks here and there. In short, it's precisely the kind of traditional guitar work I love to here in a band like Air Raid in this day and age.
The punching aesthetic this record strikes with also emanates from the drumming too. There are select moments where little other instrumentation is occurring, where suddenly the drums burst through the fray with pounding electricity. It's a nice change ti hear Tom-Tom and snare drums that smash with such alacrity and well mixed strength. I particularly appreciated how their power isn't automatically downplayed once the riffs and vocals are brought into play either; throughout the record's various segments of songwriting, the band ensured their drums are always capable of reaching their audience at any point in their record. It helps generate a ride that you have no intention of being relieved of because of the rollercoaster Air Raid, track by track, are laying out for you.
It must be said additionally how, these are stellar vocals for a work of traditional metal. It's rather refreshing to behold a vocal performance on such a record that feels as if there's a baritone presence in the delivery. When I listen to the vocals, I feel like there's a medium depth to the vocal tone which is where Air Raid summons this grounded, but projecting vocal performance that doesn't lose its way nor our attention even when the vocals do lean towards higher pitched notes at times. That's what I ultimately enjoyed as well; the vocals share the same aesthetic with the instrumentation; it never felt like the vocals were trying to escape the earth nor the riffs and songwriting. The way this album has been recorded then mixed gives the impression of this being one cohesive unit working together to craft Fatal Encounter. Often, you may discover vocal deliveries that fly off the handle and cut the album's chemistry into two; Air Raid thankfully do not fall into that category.
If there's anything positive to be said about Air Raid that doesn't coincide with the band's specific instrumentation or vocal ability, it's that Fatal Encounter is a very fun record without the band hammering it into your face. Heavy metal may be glamourised as being the ruthless form of music that so many lean toward us, yet Air Raid remind us of a time and sound where you could rock out whilst still having a blast. This album is testament to that notion where we can thoroughly enjoy the songwriting on show yet we've got a blazing smile on our faces. It manages to exude a welcome and inclusive aesthetic without it falling into Power Metal levels of cheese and fun. It doesn't try and shoehorn you into thinking you should be having fun either, Air Raid exhibit a natural flair for fun that gets you engaged with their songwriting, even their neoclassical instrumental, "Sinfonia", is worth its value in simple joy.
In conclusion, Air Raid are a credit to Sweden's burgeoning traditional metal scene as Fatal Encounter is a glorious ride from start to finish. Well planned songwriting coupled with a band who are as legitimate as any old school stalwart can be regarding their love of metal, Air Raid are a band that have immediately shot to my attention and will continue to do so when future albums are announced. Fatal Encounter is an exemplary album in execution and display; the band comes together as one force for the entirety of their duration here and you cannot separate the vocals from the riffs or vice versa; it's honestly heartwarming to see, in 2023, we are still receiving bands who understand how and why traditional metal has remained alive and well for so many decades. Fatal Encounter is able to be the powerful tour de force whilst oozing ecstatic glory at the same time; it's a very fine tightrope you don't see often, which makes it all the more prevalent to appreciate this album for what it is. A joyous, bombastic experience to be had.