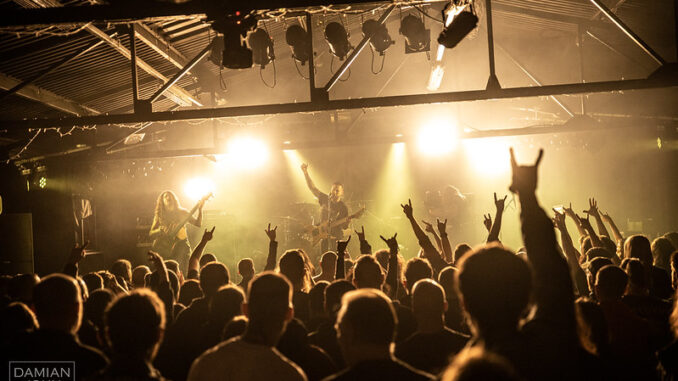 Live Review: Revocation – Rebellion, Manchester
13th February 2023
Support: Creeping Death, Alluvia, Goatwhore
Words: Dan Barnes
Photos: Damian John (Birmingham)
The second of the five dates of Revocation's UK Netherheaven tour hits Manchester on an unremarkable Monday evening in February. It's four bands with a mission statement seemly to read "lay waste" to venues up and down these sceptred isles.
We're still queuing outside as Creeping Death take the stage, yet the power and ferocity of the opening salvos can be heard on the other side of the Rebellion Bar's substantial Victorian brickwork. Humanity Transcends is just coming to a close as I walk into the stage, already well attended and enjoying the Texan's take on Old School Death Metal.
There's loads of groove amongst the double-bass kicks and the dirty riffs and the band look to be having a blast. It's their first time in this neck of the woods but they're greeted like long-lost friends. Doused in Flames, Skinned Alive and the title track continue Creeping Death's attention to their most recent recorded offering, The End of Existence. Early pits form for Bloodlust Contamination before we get a newbie in the shape of Intestinal Wrap, promising forthcoming material will be all kinds of angry.
Bassist Rico Mejia is wearing a Spurs shirt – presumably from last night's gig in London – which is a brave thing to do in Manchester, but the crowd forgive his trespasses and, by the end of set closer, Specter of War, beaten bodies are looking for respite, realising they may have peaked too soon. Creeping Death do exactly what it says on the tin and prove to be an awesome way to kick off proceedings.
Another US band making their Manchester debut is Alluvial, whose heavy hardcore/ progressive death metal approach is really rather enticing. Kicking off with Ulysses they deliver a mixture of smooth guitars and fierce drums, with the bass-rig powered to such an level I'm compelled to check the pointing to make sure the building isn't about to fall apart.
A combination of grooves, breakdowns and death metal so unrelentingly heavy it probably has its own gravitational pull show Alluvial to be explorers in the further reaches of modern metal. Vocalist Kevin Muller promises "a fast as fuck one" as introduction to The Putrid Sunrise and it proves almost impossible for at least one part of your body not to move along in time with the music.
Sarcoma gives a platform for Muller to rage; Sleepers Become Giants is slower, yet crushingly heavy as the pit increases considerably in size and ferocity. Before the set is done there are bodies smashing into each other with the intensity of a CERN experiment. Played under simple, but effective lighting, Alluvial's introduction to England's industrial north is a rousing success.
When they write the Book of Heavy Metal Goatwhore should be getting a whole chapter to themselves. Not only due to one of the best names in the genre, nor having the strictest adherence to spikes and studs this side of a frozen Norwegian forest, but for being the embodiment of all things both Heavy and, well, Metal.
My notes show the number of fucks given to be a bit fat zero as the four-piece rip through the opening Chaos Avenue, The Bestowal of Abomination and Baring Teeth for Revolt. "Let's do this, Manchester." calls L Ben Falgoust at the start of the show, instantly holding the packed venue in rapture.
Sammy's guitar simultaneously oozes darkness and evil while taking flight. Big grooves and crushing rhythms, loaded with soaring solos are the order of the evening, as Goatwhore give over nearly half their set time to last year's Angels Hung from the Arches of Heaven album. Born of Satan's Flesh, Nihil and the title track get an airing, along with Death From Above, which is introduced by the assertion that "Our stage is your stage." asking only for courtesy to be shown.
Even before this invitation, the band had been sharing their stage with all manner of surfers and divers. It had even got to the point of Mr Falgoust thinking about opening his own Lost and Found after finding a bunch of keys and some form of necklace on the stage. There was even a phone he offered to fill with dick-pics.
The pit is stretching to the point of almost consuming the whole of the venue; the last time I saw this kind of pit-to-punter ratio was Suicidal Tendencies at Persistence. But it's all good natured and all of those taking to the skies are brought back down to earth gently and safely.
Goatwhore's set is spread across their history, from Blood for the Master's Collapse in Eternal Worth and In Deathless Tradition through to the Angels… songs, and the reception the NOLA natives gets feels like this is their show.
So much so that you can't help but wonder how Revocation will fare. After all, their approach to music is somewhat at odds with Goatwhore's and following such a visceral display was never going to be easy.
Using Carl Orf's Carmina Burana as their intro music, the Boston Tech Death merchants Revocation hit the stage with Nihilistic Violence, the first of five from their last record, Netherheaven. After an hour of the primal, we are now met with the cerebral as Revocation aim to transcend the corporeal.
Clean, sharp, cutting riffs are delivered in a crystal clarity. The Cosmic horrors of the Lovecraftian The Outer Ones, That Which Consumes All Things and Of Unworldly Origin are fully expressed in a Morbid Angel style execution.
You don't have to go back too far into Revocation's history to hear their more primitive past. Communion from 2016's Great Is Our Sin album has many more rough edges than the later records would presume; while Madness Opus from Deathless in 2014 is all about the Cannibal Corpse brutality.
The show ends with Dismantle the Dictator which is the oldest track on offer tonight, it eschews the subtleties of the later cannon and is, instead, a raw example of a young band finding their feet.
So, Revocation's Netherheaven visit to Manchester might not have had the immediate curb-appeal of some of the tours that will pass through this city in 2023, but I'll wager you'll be hard pressed to find one that, start to finish, is as entertaining a show as this.