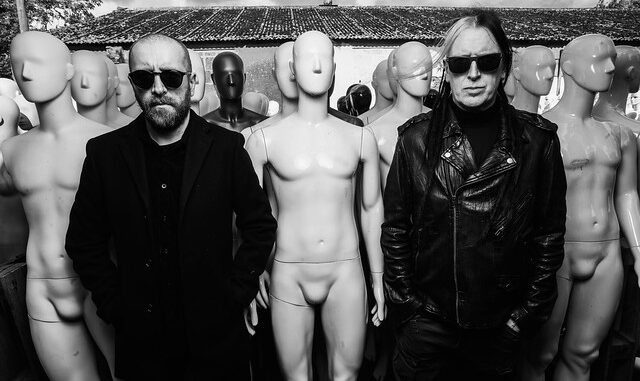 Album Review: HOST - IX
Reviewed by Richard Oliver
Host is the new project from Greg Mackintosh and Nick Holmes of Paradise Lost and is named after the divisive 1999 Paradise Lost album which saw the band exploring a more electronica and gothic rock led sound. This new project is similar but lends itself far more to an 80's sound and is wholly influenced by the music that Greg and Nick would hear played in the alternative clubs in their youth.
"IX" is the debut album from the project and has a very 80's darkwave and gothic rock feel to it but through modern lenses. The album is very much still rock led with Greg's guitar and unmistakable style prevalent throughout though you won't find a trace of metal here. Certain songs are very much guitar led such as 'Wretched Soul', 'Hiding From Tomorrow' and 'Years Of Suspicion' whilst others such as 'Tomorrow's Sky', 'A Troubled Mind' and 'Instinct' very much have the synths as the dominant instrument.
Nick uses his baritone clean vocals to great effect throughout the album even channelling a bit of Dave Gahan (of Depeche Mode) at several points. As you would expect from two of the founding members of Paradise Lost, the music has a very gloomy feel to it but whilst not anywhere near as bleak as their primary band there is an inherent darkness and doominess to these songs.
Host is seen by many as the weakest Paradise Lost album so I can imagine there are many fans of the band who are very wary or even incredulous over this new project. As a massive Paradise Lost fan myself I can safely say that this album is a resounding success and an absolutely fantastic listen. Some of the ideas and tones that were presented back in 1999 are now far more fleshed out and well rounded and this album very much channels the music of the mid to late 80's. With 80's inspired synth music still very much a popular movement at the moment, IX is an album that will be very well received and with the strength of the material on display here the first of many albums from the project.