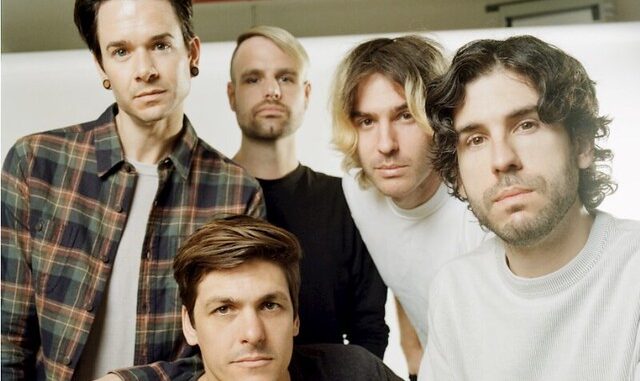 EP Review: Real Friends - There's Nothing Worse Than Too Late
Reviewed by Dan Barnes
Although having not released a full-length record since 2018's Composure, Illinois Pop Punk quintet, Real Friends, have been consistently prolific when it comes to the extended player. There's Nothing Worse than Too Late is the band's eight EP and follows less than eighteen months after 2021's Torn in Two.
Unashamedly a Pop Punk / Emo Pop band, Real Friends' new record wastes no time at all dropping into their groove. Tell Me You're Sorry makes its first appearance on the record opening proceedings with a hearty drive from clean guitars, powerful drum beats and a strong, but understated bass line. Making only his second recorded showing, new(ish) vocalist Cody Muraro completes the picture with precise genre vocals.
Of the seven electric tracks on offer here, you'll find little deviation from the tried and trusted blueprint. The Damage Is Done features a racing chug and some relatively heavy moments; Always Lose has a widescreen sound to go alongside its multitracked vocals, whereas Strangers has a fat bass and some dark drum passages.
Real Friends remain true to their roots throughout and There's Nothing Worse than Too Late is an exercise in good time vibes masking more mature themes. It's easy to dismiss the whole of the genre as the soundtrack to summer days in the early noughties, popularised by the American Pie films. Yet the Second Wave have grown up with the broken promises of the millennium and, while their angst fuelled rage isn't as destructive as Napalm Death or as emotional wrought as My Dying Bride, it does reflect their reality. Six Feet, I Don't Have to Anymore and I'm Not Ready hint at the mature content of those songs; laments to lost innocence and the fragility of life itself.
Dave Knox and Eric Haines' guitars, while lacking overdrive, sing and soar, dropping into the acoustic for complimenting passages; Kyle Fasel's bass is low key but feeds the emotion with some understated but vitally important contributions. Brain Blake's drums are punchy and powerful, only on Always Lose they occasionally coming over as a little muddy.
It's obvious the four musicians have been together for a while as there is an effortlessness to their playing and connectivity, allowing their newbie vocalist to find his feet.
The final two tracks on the EP are acoustic versions of Tell Me You're Sorry and Always Lose, both are drawn from lush guitars with minimal additional accompaniment. Having both the original and the stripped-down versions together allows a comparison and an appreciation of the skill involved in representing songs in an opposing manner.
As a genre, Pop Punk is often derided as having a juvenile sound, but it must be remembered that band such as Ramones, Buzzcocks, Rancid and Descendants can all come under the umbrella. Maybe not as abrasive as many Punk bands, but the alternative nature of Real Friends, alongside luminaries Knuckle Puck, The Story So Far, State Champs, Mayday Parade and many, many more are putting the punk aesthetic in front of an increasingly wider audience and that must be good for everyone involved in the scene.