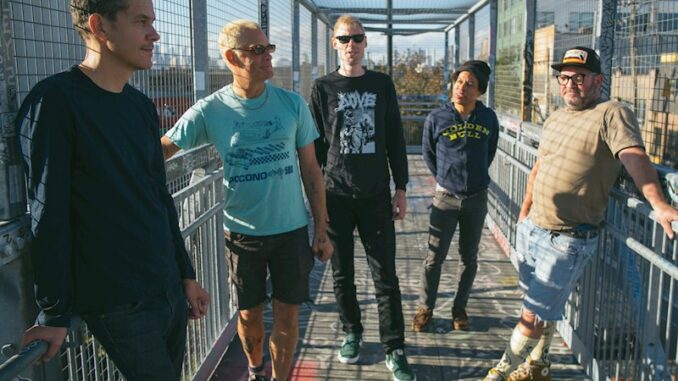 Album Review: Samiam - Stowaway
Reviewed by Dan Barnes
Although never having officially called it quits, it's been twelve long years since Samiam's (pronounced Sam – I – Am) last album, Trips back in 2011; that time having been spent trying to get everyone together to work on a new record. With all living in different parts of the United States that became a Herculean Task and, just as ducks were set, the Pandemic hit.
Still, the intervening dozen years have not blunted Samiam's cutting edge and it is as though that time happened to someone else. With the exception of the closing title-track, Stowaway is eleven three-minute bangers, generally in the Punk Rock/ Pop Punk area but not afraid to take a chance by moving out of that comfort zone.
Lead track, Crystalized is probably the closest the album comes to all-out Pop Punk, though it isn't without it's crunch when required. To me, this is the sound of hot Californian days – not that I would know much about that, sitting as I am in a bleak north of England industrial town – but it's what I imagine Californians do with their time. Something picks up the vibes toward the end of the album, but it dabbles with speedy guitar and driving bass.
What Samiam do is mix that accessible So-Cal sound with a darker feel, pulling the rug from beneath you as you progress. Monterey Canyon, Natural Disasters and Stanley all begin with the promise of bubble-gum pop but swiftly switch gears into something with more substance. Big beat pulses ring through every moment of these tracks as heartily as they do anywhere else on Stowaway.
Lights Out, Little Hustler features the kind of dominant bass line and jangling guitars you'd expect to hear on an Alt Rock record, giving an upbeat and danceable feel at odds with the lyrical content.
The years have not robbed Samiam of their tightness as a unit; long-time guitar duo Sean Kennerly and Sergie Loobkoff resume duties and provide the light and shade to the framework of new rhythm section of Colin Brooks and Chad Darby. Jason Beebout's vocals weave tales of failure, whether to act or to communicate or just to find meaning and the tenacity to keep moving forward to give yourself the chance of success.
Lake Speed opens the album with a siren call and a chunky punk riff that is guaranteed to get hearts and fists a pumpin'. The rawness achieved here is clarified when you realise this track was recorded in a single take.
Shoulda Stayed and Shut Down take those So-Cal vibes and plays with them some more.
But it is the aggressive assault of Scout Knife and Highwire that shows what's behind Samiam's curtain: a raw and urgent Punk Rock machine, infused with political ire and ready to shred.
For a band who have been away as long as they have, Stowaway is a mightily competent return to the recording arena and, by the content on offer, Samiam still have much to say.