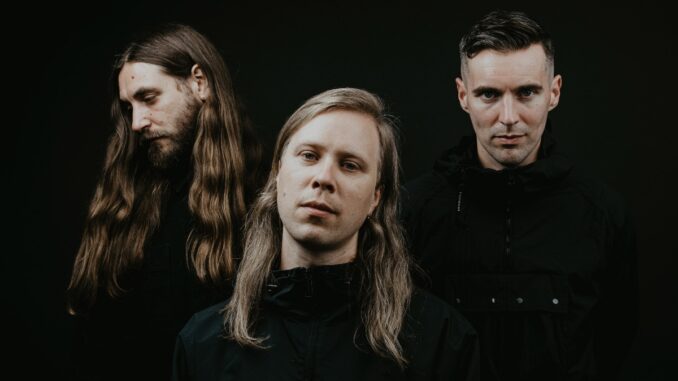 Live Review: Dawn Ray'd - Scruffy Murphy's, Birmingham
25th March 2023
Support: Cairns, Crimson Throne
Words: Matt Noble
First up at Scruffy Murphy's is Cairns, a post-black metal band from Manchester who, amazingly, are only playing their first ever gig tonight. They've got an impressive turnout for it, and they show their heartfelt appreciation for those that have come. The first song starts pretty frantic and blast-heavy, but a powerful melodic break towards the end shows what's to come - and it's these post-metal stylings that they do best, showing off their full range of capabilities to a stunning effect. The clean vocals are excellent, the ambient backing track is very powerful, and the uplifting final section that they leave the crowd with is stellar. I find the melodies have a folky quality, almost like Agalloch - it's impressive enough for me to buy their EP 'Keening', which they play in full tonight.
Crimson Throne come on next, with an atmospheric take on black metal that hums away in the background between songs, meaning there's no break to the music, keeping you locked into a trance. They don't quite sound as crisp vocally, but they perform a powerful take on black metal, with interesting ways of developing and progressing riffs, amid a tight drum performance. I particularly like the ambience and slower, doomy sections where they just allow the chords to ring out and the music to breathe, between the grim and somewhat mysterious riffing that most of their sound is characterised by. Crimson Throne are clearly very good at what they do, but it doesn't leave as strong an impression on me tonight - perhaps because of the uniqueness of the bands they are sandwiched between.
Tonight's headliners Dawn Ray'd follow, just one day after the release of new record 'To Know The Light'. With an intense take on black metal, it's interesting that they do not perform with a bassist, although there is plenty of bass and drone in the backing track. Even more of note is the fact that lead vocalist Simon plays a violin from time to time, creating interesting counter melodies with the guitar and a somewhat folky feel to them. He utilises some very cool clean vocal loops, allowing himself to add further vocal layers and harmonies or take over on violin. It's only the very first Dawn Ray'd show in Birmingham, though with such a receptive audience you'd never guess so.
They fearlessly introduce the final song of the night with a brief political speech, decrying the failures of the current establishment and political state with a staunchly anti-fascist and anarchist message - presumably something that their lyrics reflect - which resonates well with the crowd. They draw the set to a close with an epic, grandiose sense of finality to the final song, and a huge closing vocal loop. Dawn Ray'd boast an impressive sonic power, with some great guitar effects and an excellent drum performance. The clean vocals are rich and soulful, though utterly demonic when the blackened shrieks come out to play. Such musical light and shade is very effective. I knew very little of what to expect coming in tonight, but Dawn Ray'd firmly prove themselves to be a UK hidden treasure from tonight's proceedings.