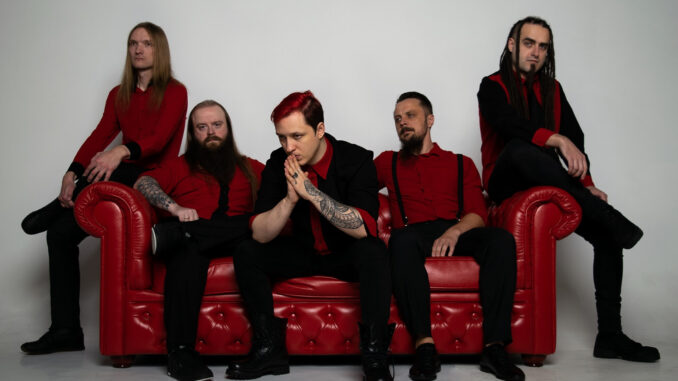 Album Review: Woe Unto Me - Along the Meandering Ordeals, Reshape the Pivot of Harmony
Reviewed by Sam Jones
I haven't checked out much Doom lately, not since Ahab's latest offering, so that's why we've found ourselves amongst Woe Unto Me's latest album: the lengthy titled Along The Meandering Ordeals, Reshape The Pivot Of Harmony. It's also nice to acknowledge a band from Belarus, a part of the world I really haven't encountered much metal emanating from. Formed in 2007, these doomsters are no stranger to the scene, even if it took them some time to get their first released record out in 2014, A Step Into The Waters Of Forgiveness. A 2017 record, Among The Lightened Skies The Voidness Flashed, followed suit yet, from 2021 onwards, the gears of this band really kicked into new life including an EP and two Singles, before the band finally unveiled plans for their third full length release. I was curious by what I heard when this record was initially released, so I was deeply interested for what the full package would deliver.
When every track on an album is over 10 minutes long, it comes as part of the territory that Woe Unto Me aren't going to explode right out of the gate, especially when they're the Funeral Doom metal force they're acknowledge as either. Take the opening track for instance, Woe Unto Me are looking introduce themselves to many through this record for newer fans to experience them and I'd say this opening to the record is simply sublime. A gathering ambience is slowly injected with additional power before macabre vocals assume command, which soon fall to the bellowing delivery this record will mostly consist of and the general songwriting one would expect to find lurking within. What does separate Woe Unto Me quickly however, is the inclusion of quaint ambient elements spread throughout the record's running. Whether it's a lighter motif on the vocals or a high-pitched note rising high into the mix, the band manage to instil a deeper emotional element into their performance, signifying how they're seeking to establish themselves as something more than a crushing funeral doom band. They're looking to craft something substantial that fans can latch onto.
I do appreciate that the band opted for a guitar sound that isn't massively encompassing. As I trudged my way through one track to the next, I forever felt like I could experience the full breadth and weight of this record without needing a break to give my senses relief. The riffs are full of power and might, tight as a clenched fist that comes down time and again as per the band's pacing, befitting their Funeral Doom characteristic. I think, because the band's pacing is a little quicker, than your typical Funeral Doom band, the band couldn't let their riffs and tone permeate for as long, as otherwise, you'd get songwriting that was even longer than what Woe Unto Me intended with this record. Yet, that quicker pace has resulted in a choice of guitar tone that enables elongated songs such as these to feel naturally fluid in the progression of songwriting without the audience wondering when it's going to end. It's a tricky balance but I'd argue Woe Unto Me, from the first tracks alone, cement a rich confidence upon their audience that their time will not be abused.
In addition, the band help audiences lessen the weight the songwriting possesses by interspersing their vocals between the traditional bellowing, drawn out vocals we've come to expect from such a work, with genuinely clean and pleasant vocals that wouldn't be amiss in any rudimentary rock record. The bellowing form is what we naturally expect, peppered periodically across their album when the demand for power is greater than the need for coherence. I do like how the more aggressive vocals still don't weight too heavily on us; we can appreciate the might they bring to the overall soundscape without growing tired of them. Much of this is due in part to that cleaner and more accessible vocal element that is a surprisingly large part of Woe Unto Me's aesthetic. Many may feel put off by how greatly the clean vocals are an inseparable part of the songwriting but it does help to instil something more soulful and intimate into a record, that others would initially view as singularly crushing and despairing.
It took me until I was halfway through the record to realise just how clean the production was. Often, when a band are vying for such an aggressive soundscape the riffs and tone tend to dominate everything else the band are looking to hurl at us. That is not the case with Woe Unto Me; the band's evident preference for a clean and smooth production quality has resulted in a crystal clear canvas by which all instrumental elements from the bass to riffs to drums come across with striking clarity. There's no chance of our ears missing anything with this production standard and frankly, it's a nice change to listen to a Funeral Doom record that isn't shy of letting its full visage be perceived. As a result, the drumming is wonderfully realised as we can hear every strike of the Tom-Tom, and each cymbal crash too, as well as the climbing and declining intensities their patterns take us through. All in all, this album is actually quite easy to listen to, and that's even with every track being over ten minutes long.
In conclusion, Woe Unto Me's latest offering is a massive slab of Funeral Doom that turns out to be surprisingly accessible, and may in turn become a gateway record for fans to turn into more punishing forms of this style. With tracks that are almost fifteen minutes long throughout the entire runtime, one after the other, this could have been a dragging affair yet, Woe Unto Me have managed to craft a record that moves along at a pace that is both heavy but steady. There are certainly more devastating examples of Funeral Doom out there so it's refreshing to know not every band under this moniker need be the same. It is a length record, over an hour long, but with that time the band flesh out their songwriting effectively by including elements that help them to stand out from their contemporaries. Woe Unto Me harness a melancholic edge within their sound that helps alleviate notions that this is just another crushing and damned affair. On the whole, Along The Meandering Ordeals, Reshape The Pivot Of Harmony is a deeply rewarding record that I can see people coming back to on multiple occasions owing to its ease of accessibility and how kind it's soundscape is on our senses. A thoroughly entertaining, yet strikingly calming Funeral Doom record experience.