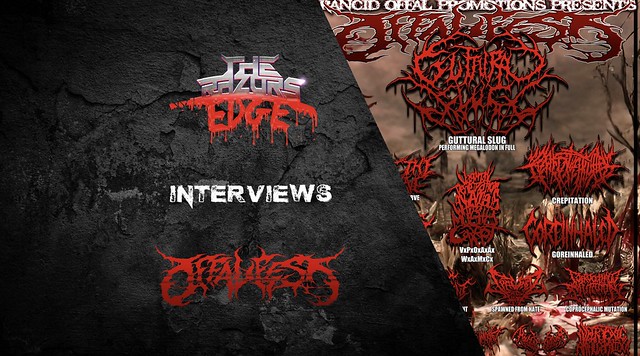 Interview: Sam Mansfield of Offalfest
Interviewed by: Patrick O'Reilly
As Offalfest 2023 fast approaches, we chat with festival organiser Sam Mansfield of Rancid Offal Promotions.
The Razor's Edge: Please introduce yourself and tell us how you came to be putting this festival on and how you got into Slam and BDM.
Sam Mansfield: My name is Sam Mansfield, and I am the founder of Rancid Offal Promotions. Offalfest mainly came about from seeing all these amazing festivals pop up around Europe and the UK and sitting at home with way too much time on my hands trying to make a dream festival line-up!
After that I realised I was in over my head running this on my own so I enlisted the help of the only other person I know could effectively run this with me and that is where Jack Evans from Unusual Horror came to join the Rancid Offal Family.
As for getting into slam and BDM I've always grown up listening to music that's been "out there" I guess compared to everyone else I grew up with. When everyone else was into pop, I was into metal, when I met friends into metal, I was into deathcore, when they liked deathcore I liked death metal, and then I discovered slam and BDM off the back of that and my tastes became even more "distasteful" I guess is how people would put it [laughs]
The Razor's Edge: I imagine putting on a festival of this size is a logistical nightmare, and I know there have been problems with the festival being postponed a year, talk us through that and how difficult it was to get this festival on, also how did you overcome these obstacles and any others that occurred?
Sam Mansfield: Initially we aimed to have the festival be one day split between two stages at a venue I've always wanted to attempt that idea at. Zero clashes and a good spread of brutality. Well, that was the start of me making a dream line-up and seeing what the chances of booking it would be as a "what if" project, turns out I actually would go and try it against all better judgement.
The logistics originally weren't an issue, but as time drew closer to the fest date that's when things fell apart, capacity numbers changed at the venue, so bands dropped out or there was issues getting visas, so that's why we postponed initially and found a bigger venue, but now we've had to condense to one day and one stage. With a few other bands having to pull out and a local replacement being made we now have the line-up you see currently!
The Razor's Edge: Can you say a few words about each band and why you picked them for this festival?
Sam Mansfield: I can try without waffling on too much [laughs]
Fifteen bands and a lot to say about each individually, so let's start off with Necrotoxic, the amalgamation and Maggot Erotica, Necro Toxic I have placed on a few line-ups before but originally Offal was their first ever show! Maggot Erotica was a band I stumbled across on Facebook a while ago as a suggested follow, I'm a firm believer in reaching out to the underground and new starters and trying to get them on shows because it's the only way new talent is found! Dawn of Animosity and Embolectomy are the next two bands on, they are really good friends and when I was putting this together initially, I wanted a good mix of friends bands to help give them a platform to excel at what they do! Both bands bring crushing riffs.
357 Homicide was a no-brainer in my opinion and they were a band I wanted at the festival before they even started playing live! Coprocephalic Mutation is my own band, this placement was being used to announce and show off our full band line-up as a five piece, bringing three new members in and upgrading the band from being a two-piece backing track band. After us is Spawned from Hate and they were another band that I wanted back in Manchester after it being a while since I'd seen them last! Amazing riffs, great band if you love pinch harmonics and Dan [Phipps - also a member of The Razor Edge writing team] is an amazing frontman bringing that hardcore energy! Also, a big shoutout to AWB Productions, Dans YouTube channel and Facebook page as he is videoing all the bands sets!
Visions of Disfigurement were also another no-brainer, you can't have a Manchester death metal festival and not have V.o.D., they know what they are doing, and they do it well! Septic Congestion are a Danish band and great friends of mine also, who have never played in the UK before and when I first pitched the idea, I asked them straight away to play! Next is the last addition to the festival and that is the mighty Goreinhaled! I have been trying to get them into Manchester for a while now since their return and after a few fall throughs and issues we managed to get them on our festival!
Iniquitous Savagery are just pure brutality, uncompromising death metal and one of my favourite bands in the UKDM scene. VxPxOxAxAxWxAxMxC (Vaginal Penetration of an Amelus with a Musty Carrot) are goregrind legends! They are a very cultish band, they have a very dedicated fan base and as far as I know it's been a while since they last played in the UK! Next up are Crepitation bringing crazy wobbly beeping vocals and, of their own admission, "pyar knob'ed riffs", and if that doesn't intrigue you, I don't know what will. Twitch of the Death Nerve, much like Iniquitous, are just bringing sheer technical and uncompromising brutality, one of the best Death Metal bands in the UK. And last but not least Guttural Slug who we managed to pull playing 'Megalodon' in full for its 10-year anniversary!
The Razor's Edge: It seems to me that the slam scene in the UK is in a very healthy place and growing in popularity, do you agree with this and if so, why do you think that is?
Sam Mansfield: In the last few years, I think a lot of people used Covid and lockdown to really focus on writing music and spending the time improving what was already in play. Since shows have come back I've met a lot of new bands and musicians and I'm blown away at the amount of new talent that is emerging. Do I know why the UK is a great place for Slam and Brutal Death Metal? Honestly, I can't name one factor as to why, but I sure as hell ain't complaining!
The Razor's Edge: What else can people attending the festival expect from the day as well as great music?
Sam Mansfield: Well other than amazing bands playing all day! There will be a great playlist of 90's trance and house music being played between acts to cleanse your auditory palette, so to speak, and a full spread of merch available to buy directly from the bands! Also, if you're down in Manchester the day before (March 24th), Jack has planned a Pre-Show Party at RetroBar featuring Kastrated, After the Abduction, Exhumation, Coprophagia and Type A Secretor! so you can turn your weekend into a long weekend of brutal music.
The Razor's Edge: Was it difficult getting Guttural Slug to play? How excited are you to see them?
Sam Mansfield: I would like to say it was really hard, but in reality, it was pretty easy to get them to play! Mikkel, the brains behind Guttural Slug, is a really good friend and is also the guitarist in Septic Congestion, I just happened to say that since he is already over here, would be consider putting a line-up together and playing 'Megalodon', he said yes and the rest is history. I wish I could see them play, but I am actually part of that live line-up alongside Lewis Candlin from Colpocleisis/Kastrated/Chainsaw Castration, Chris Ryan from Party Cannon/Iniquitous Savagery and Jack Papp Fahlberg Christensen from Septic Congestion/Kraanium.
The Razor's Edge: With an unlimited budget and including bands that don't exist anymore, what are your dream festival line ups?
Sam Mansfield: That's a real kid in a candy store question [laughs]. Well I'dd love a two-stage, one day festival, so I'd probably say...
Stage 1: Cannibal Corpse, Devourment, Disgorge, Mortal Decay, Cenotaph, Scattered Remnants, Cerebral Hemorrhage, Dyscrasia, PeelingFlesh, Coprocephalic Mutation (cheeky self-promotion I guess haha)
Stage 2: Suffocation, Dying Fetus, Inherit Disease, Defeated Sanity, Cephalotripsy, Cemetery Rapist, Amputated, Twitch of the Death Nerve, Stabbing, 357 Homicide
The Razor's Edge: Is Manchester the epicentre of the UK slam scene? What is it about the northwest that seems to make for good slam territory?
Sam Mansfield: I think Manchester has been dubbed Slamchester for a reason, but that also being said, there's amazing little pockets of death metal scattered around the UK in places you wouldn't imagine! I just think that Manchester seems to be where they all want to visit! However, London has one of the best crowd turnouts and reactions I've ever seen.
The Razor's Edge: What have been some of your favourite music releases so far this year and last year?
Sam Mansfield:Recent favourites are definitely the newer Colpocleisis singles for their upcoming album! Type A Secretor just released their debut album 'Dildonic Embludgeonment' on Vile Tapes which I recommend people check out! The Texas BDM band Stabbing released a sick album last year and they're doing amazing things as a band! Also the Regurgitated Entrails Demo that was released last year just before new year's! That's what BDM is supposed to sound like! but other than that most of my music taste is based in the 90's and 00's!
The Razor's Edge: Are you into horror/gore or anything else associated with slam and death metal?
Sam Mansfield: I love horror movies, but that love actually came more after I fell into loving death metal! Usually for other people it's the other way round. But Jack is the resident horror aficionado in the Rancid Offal camp! He also runs his own clothing company Unusual Horror who have released a lot of officially licensed merchandise for some of the best and most notorious underground horror going as well as his amazing Slam collaborations working with some of the best bands in the genre.
The Razor's Edge: What are the best gigs you've been to?
Sam Mansfield: Honestly that's like picking the favourite of your children, when it comes to the bands playing I can't quite pick one above others, but the best bands I've ever seen live are definitely Crepitation, Twitch of the Death Nerve, Hate Diplomacy, Waking the Cadaver, Kraanium, Kastrated, Amputated, Korpse, Gutalax, Guineapig, among so many others. If i had to say what the best gig I've ever been to is for pure substance and memories it has to be watching Cannibal Corpse at Bloodstock 2018 and that's because that's where I met my partner Phoenix!
The Razor's Edge: Any injuries sustained in the pit? Any funny stories from attending gigs, or playing them or touring?
Sam Mansfield: Apart from one mild concussion I got after stage diving to Terror, I don't really pit all that often [laughs]. I prefer to just watch the bands and listen to the music I love. I feel like when I'm in a pit there's too much going on for me to really enjoy the band, but I love seeing massive pits of all varieties! I've seen a lot of injuries and fights happen but nothing that wasn't laughed off and hugged out, it's all love here!
The Razor's Edge: Party Cannon recently made a Street Fighter video based on the game, if you were characters in a fighting game what would your styles and special moves be? Could you beat up any of the guys from Party Cannon?
Sam Mansfield: My fighting style is definitely going to be shouting "look over there, a new Devourment album" and then running in the opposite direction as fast as i possibly can [Laughs]. But could I beat up any of the Party Cannon guys? I know I couldn't win that fight but I never could start a fight with any of those guys. My love for them all goes far into the expanses of the universe! Mike, Chris, Craig, Martin, Stony and even recently filling in Daryl! If any of you are reading this, lets cuddle yeah?!
The Razor's Edge: Are you wearing a metal shirt currently? If so what is it? What are some of your favourite shirts or merch you own?
Sam Mansfield: I'm never not wearing band merch! Currently I'm wearing one of the older Amputated shirts I have, specifically Cunt Like a Sewer - not sure if that'll need censoring [laughs]. But most of my favourite shirts that I own are some of the harder to find ones or just any of my long sleeves! I have some nice Dripping shirts, Cephalotripsy, Dyscrasia, Broken Hope, Suffocation, Pyaemia, Viral Load, Inhuman Dissiliency, and about 300 or 400 tshirts in a storage unit at the moment as I have no room for them anymore! I have over 50 snapbacks and baseball caps, and about 20 hoodies and probably about 30 odd pairs of shorts! I'm all about supporting bands and collecting merch!
The Razor's Edge: Will the festival be a regular annual occurrence?
Sam Mansfield:We do plan on returning, but that may not be until 2025 as Jack and I have other plans together for a project we are just starting which will be announced in the near future, but don't worry, Offalfest will not be a one time thing!
The Razor's Edge: Finally, Chris Barnes or Corpsegrinder?
Sam Mansfield: Both are fantastic in Cannibal Corpse and I cannot fault either for their work in that band at all. Chris laid the foundation for most brutal vocalists in Death Metal! But if we're talking about modern day Chris and George, well… Barnes needs to find a comfy bin and move in quickly! Dudes smoked too much in his time and his voice and brain need some time out of the limelight. Corpsegrinder on the other hand is still as good as ever and I would love to visit an arcade with him and play some vintage arcade games!