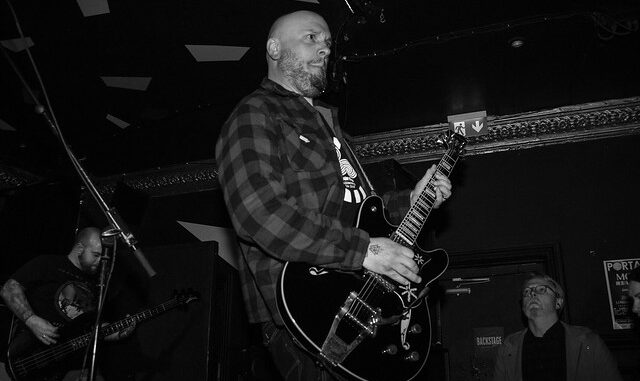 Live Review: Boss Keloid – The Victoria, London
10th March 2023
Support: Giant Walker, Sleemo
Words & Photos: Jacob Schwar
Much to my surprise, tonight's event would be taking place at a London venue I'd never before been to, The Victoria as it's named is a quaint little boozer in Dalston with an ample concert hall in the back. The main bar was "packed to the rafters" with locals, that being hipsters and students mostly, though with the odd metalhead stood amongst them patiently awaiting admission to a evening packed full of riffs and plenty of boozing as it's a Friday night of course!
Kicking off tonight we have Norwich based alternative rockers Sleemo who wasted no time in introducing themselves with some loud and heavy guitars, getting the crowd nicely warmed and ready for the night ahead. Sleemo were in fact a three-piece and whenever I see a three piece I think back to some of our great heavy hitting trio acts of the genre such as Melvins and Nirvana, a couple of great bands who though only a consisting of 3 members were still able to put out a ferociously powerful live sound and Sleemo didn't disappoint the slightest in this area. With tracks such as the slow and heavy 'Dog' or the much more fast-paced and anthemic 'Imitate The Thief' it was a clear to see why these lads were first on support for the mighty Boss Keloid.
Next up we have Giant Walker a fairly progressive yet hard rockin' act hailing from both the north and the south of the UK… and were we in for something special with this band! Opening their set with the song 'The Fact Is Fiction', a perfect introduction for a new listener such as myself to the uniquely progressive sound of Giant Walker that has quite distinctive hints of nu and alternative metal throughout the overall soundscape. During their set I was transfixed on lead singer Steff with her enchanting vocals and incredible stage presence, her overall look and demeanour reminding me of Stevie Nicks or Grace Slick. A personal highlight from the set was the song 'Past The Peak' which came across great in a live setting with its intensely emotive song writing especially in the chorus which thematically I suppose is to do with suffering and coming to terms with a loss of some kind. Coming to the end of an excellent set they rounded it up with one of their hit tracks 'Katoomba' which once again showcased the uniqueness of Giant Walker's sound and demonstrated to me that here's a new band to really keep an eye on.
After a short break between sets we now come to the headliners of tonight, all the way from sunny Wigan and here to lay down some northern sludge we have Boss Keloid. This would be my second time seeing them since Bloodstock 2019 though being violently hungover that time, this time being somewhat sober and in a more intimate setting allowed me to really appreciate and absorb their live performance. Kicking off with the track 'Smiling Thrush' from their most recent release Family The Smiling Thrush back in 2021, an absolutely grandiose song with pleasantly chuggy riffs that saw the crowd bopping heads. Soon after we come to a real highlight with the track 'Orang Of Noyn' which was 9 minutes of pure prog sludge, heavy as hell to say the least!
Boss Keloid were truly on form tonight though especially frontman Alex with a stage presence equal to any of great lead singers in the genre, he made sure to provide some excellent dialogue between songs mentioning something about "the smell of excrement and pies" at one point which cracked me up! Boss Keloid would pull out some real bangers for tonight's show such as 'Hot Priest' which reminded me of something by Red Fang, 'Chronosiam' with its pleasant guitar work and near anthemic chorus and a personal favourite, the crushingly heavy 'Lung Mountain'. This would be Boss Keloid's penultimate night of their UK tour with Giant Walker before a final performance closer to home up in Manchester, overall tonight was fantastic, I discovered some new bands, a new venue and heard some of the finest sludge metal the UK has to offer, can't say fairer than that.
All photo credits: Jacob Schwar