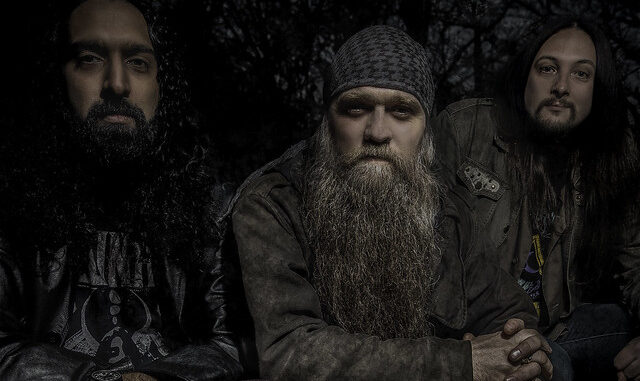 Album Review: Morass of Molasses - End All We Know
Reviewed by Neil Bolton
A warm fuzzy glow to the soul is always generated when one of your favourite underground bands is about to release a new album. This warm feeling is amplified when you are able to review an early copy of that release. This Reading based blues/stoner band are about to released their third studio album; their first on Ripple Music.
It begins with 'The Origin of The North' and that warm fuzzy feeling does not dissipate.
A catchy guitar lick drives straight into your psyche and does not relinquish grip. The guitar skills of the axe men Bones and Phil are instantly displayed and Bones's distinct vocal style is still very prevalent, along with images in my mind of the vocalist's entertaining stomp dancing while the song progresses.
This is the Morass of Molasses you had hoped for, with a sprinkle of freshness to boot.
The percussion skills of Raj on drums are never hidden either and the frantic precise beat continues in the next track the already available single 'Hellfayre' once more sticky guitar licks grace the tune with rewarding beat and rhythm. A trope Morass of Molasses fans will recognise is the sample spoken word "news reel" type intro to the occasional track; 'Sinkhole' is one such number. Once more the pounding drums form a bed for guitar riffs and solos.
A clever passage of progressive type stoner rock leads to an aggressive vocal outro, leaving the listener in no doubt who they are listening to.
'Naysayer' grows from calm roots to once more blossom into the familiar bluesy guitar force this band are known for. Bones's voice is prevalent and in your face, while the mountain of a man Phil Williams slowly lets his solo burn into your mind.
'Slingshot Around the Sun' once more has an air of tranquility at its outset, but this time the mood remains a little more subdued and calm; that is until the solo hits to dent the mood but in no way spoils it. 'Terra Nova' leads with a flute until the groove rips up on you. The wind and string instruments mix well in the tune and it goes without saying the drums do more than just keep the beat. 'Prima Materia' seems to match the style of the above track perfectly although the flute is no longer with us.
The album is closed with 'Wings of Reverie'; we are treated once more to a soaring guitar tone, handing off to Bones's vocals. The groove and comfort of this band are soon with us until the soaring guitar sounds begin again. Female vocals blend beautifully with the ones we know, and the tune plays out before a minute or so calm outro.
Morass of Molasses have released a tremendous record on Ripple Music, one with groove, riffs passion and skill. The rewarding warm feeling any fan would desire is provided here in frankly embarrassingly large amounts. Large amounts that will be on show on their upcoming UK tour along with sets at DesertFest London 2023, and the just recently announced set at Riffolution Festival Manchester 2023.