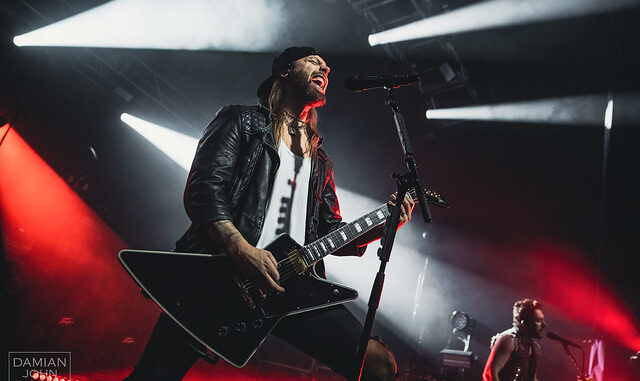 Live Review: Bullet For My Valentine - O2 Academy, Birmingham
7th March 2023
Support: Jinjer, Atreyu
Words: Matt Noble
Photos: Damian John
As the lights drop for the first time for the night, Darude's 'Sandstorm' blares over the speakers, setting the tone very quickly for what will be an entertaining and incredibly fun performance from metalcore OGs Atreyu. The a capella intro into opener 'Strange Powers of Prophecy' is very impressive, with the vast majority of the band taking the mic, and lead vocalist Brandon walks through the crowd for 'Becoming The Bull' at the pure delight of the crowd around them.
Their set is based around feel-good metalcore anthems that feel classic with plenty of hooks and hard rock stylisms to them. After new track 'Drowning' gets a good reception, the dancey, dubstep-inspired 'Battle Drums' brings an excellent sense of contrast into the set, turning the room briefly into a rave hall. They also tease a cover of Whitney Houston's 'I Wanna Dance With Somebody', promising to play it in full next time before rounding off with 'Blow' and a guitar duel. Atreyu boast a great sense of camaraderie between members, and Porter McKnight has a fantastic presence onstage when away from his bass guitar. They really bring the party and get the night off to a strong start.
Jinjer is something else entirely. With intense lights to match the intense music, Jinjer are not here to mess about, focussing on delivering a hard-as-nails suckerpunch of a performance. I'm not really too familiar with Jinjer - this is my initiation to one of the most hyped and talked-about bands of the last five-odd years. Whereas Atreyu brought the fun, Jinjer are characterised tonight by a sense of uncompromising brutality.
They're light on the crowd interaction, but it's not missed from their set. And of course, the crowd surfers and rabid pits are testament to how much the audience are into it. As much as they're djenty, technical and proggy, Jinjer are still songsmiths at heart, and they've earned their success on quality, and a refusal to do anything but punishing, modern ragers. Naturally, given the events of the last year, their Ukrainian identity has made their music and success meaningful in a new way, and vocalist Tatiana appreciatively acknowledges all of the blue and yellow Ukrainian flags, particularly for 'Home Back', which has an entertaining gypsy jazz-inspired interlude.
Jinjer are razor-sharp instrumentally and Tatiana boasts a commanding presence and excellent vocals. Of all the bands on tonight who are likely to eventually headline a Bloodstock-style event in the near future, it's not either of the bands before and after Jinjer. Not my cuppa musically but I'd happily go see them again.
Having bought my first Kerrang! magazine in mid-2009, there was no escaping Bullet For My Valentine when I was a young whippersnapper, dipping my toe into the world of heavy music for the first time. They seemed to decline slowly after 2013's 'Temper Temper' - I thought 'Venom' was a return to form but they forged a new, updated musical identity from 2018's 'Gravity' onwards, which was much-maligned and criticised at the time it came out, presumably by people in online comments sections for the most part. They followed rather than led the trend at the time, but I respected the fact that they weren't going to be complacent and rest on their laurels or rehash 'The Poison', and instead went for something different and fresh for themselves. Bullet were hardly the only metal band who were massive in 2009, and would go onto release a misstep of an album, before re-discovering themselves. I'm not going to name names.
About the gig, anyway. The explosive 'Knives' completely sets the room alight, and 'Over It' has a real sense of swagger. The most die-hard old-school Bullet fan would have a hard time denying that the new stuff really rips live - though Matt Tuck promises twenty years of Bullet For My Valentine in 90 minutes fairly early into the set, before bursting out '4 Words (To Choke Upon)' to a rapturous roar and lyrics being screamed back cathartically by the entire room. BFMV are a classy band, whether playing songs from their first or most recent, but it's undeniable that the older material is better received. Despite the room bursting to the brim with attendees, you do wonder whether they could or couldn't play a bigger venue in a few years.
Bassist Jamie Mathias takes a lot of weight vocally, with 'You Want A Battle? (Here's A War)' a good showcase for his melodic and unclean capabilities, though Matt Tuck is the focal point, screaming, singing and shredding like a living rock god. The lead guitar work is really impressive from both - though Padge is definitely the band's very own guitar hero - and Jason's drum work is wonderful at the back, keeping everything locked in. The band just exude confidence and presence. There's a few surprises for those former Kerrang! readers from 2009 like myself, with 'Hearts Burst Into Fire' and 'All These Things I Hate (Revolve Around Me)' rousing joyful singalongs across the overwhelming majority of the crowd. 'Scream Aim Fire' and 'The Last Fight' keep it heavy, with fantastic arpeggiated solos, though the newer bangers like 'Don't Need You' and 'Death By A Thousand Cuts' very much hold their own in the set, and the crowd reciprocate this with fiery moshpits.
After a minute of silence and darkness following the main set, the snare intro of 'Your Betrayal' rings out without warning to start the encore. It's completely electrifying. The start to 'Tears Don't Fall' gets an ocean of phone lights in the air and possibly the biggest crowd singalong of the night, before 'Waking The Demon' rounds off an hour and a half of an anthemic metalcore extravaganza from Bullet For My Valentine. It's a treat for everyone, whether they're new to the fold, picked up Kerrang! in 2009, or still have that first press copy of the self-titled EP from almost two decades ago. I hadn't seen Bullet for ten years, and it's probably around nine since I heard most of these songs - how is it that I still know most of the lyrics? They continue to fly the flag proudly for Welsh heavy metal, 25 years after the formation of Jeff Killed John, and their fun, enjoyable performance and army of noisy fans shows that they've earned their place in the history books of heavy music. Great crowd, great songs, great fun - I've had far worse Tuesday evenings in Birmingham.