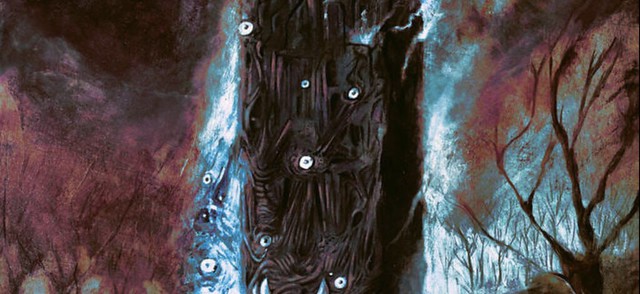 Album Review: Décryptal - Sabazios Culte
Reviewed by Sam Jones
Decryptal are new. New to the extent that Encyclopedia Metallum has absolutely nothing on them, so new they only announced this debut Demo of theirs a few months back. So, when I saw Decryptal's Sabazios Culte was slated as a potential choice for reviewing I decided to give it a go. It's been a moment since I checked out a Demo but with all the buzz and interest that this release looks to be getting throughout social media and anticipating outlets for new metal, it's possible we might have something very interesting on our hands. Let's dive in and see whether Decryptal do truly measure up to the hype they're generating.
Considering how this is merely the band's first Demo, and thereby their first ever release as Decryptal, the production featured herein does not sound dissimilar to how a full length release may come across as. Granted, in time Decryptal may release something that's a little more polished than Sabazios Culte can sport, yet the overall soundscape, with its scathing and shredding aesthetic upon the skin of this Demo, feels perfectly apt for the kind of tone that Decryptal are looking to immerse us in. The muddied production gives their performance a menacing and raw appeal that a more varnished sound couldn't have achieved. But this is only their first Demo after all and so, such care towards the production would not have been prioritised. However, it gives us a firm idea of what Decryptal have offer us in the future.
Coming off from the impact of their production, the guitar work features this rolling style of playing that works hand in hand with the rest of their songwriting. The muddied soundscape aids the band by refusing to differentiate the various elements that bleed into this record, creating an onslaught that feels ongoing and only becomes reinvigorated with every turn and twist their riffs muster. As soon as one riff segment finishes, the band immediately launch us straight into the next; that's the rolling style mentioned prior where the band manage to concoct this cavernous surge system that's forever bringing power renewed to the fray.
The drums are massive throughout this performance albeit a little overwhelmed by the riffs and the choice of production applied herein. With that said, the drums aren't relegated to a non-entity here for their impact can be felt towards the outskirts of this record. The drums aren't employed here to devastate your senses at point blank range as many over extreme metal acts would prefer; in this instance, due to the limitations of what Decryptal have to work with, the band have seen to it their drums coat the walls of this record with bass and a thunderous tone to boot as well. You might not be able to make out specific sections of drumming all too well, especially during the most fervent sections, but you'll still be able to identify blast beats and pummelling moments of bass drumming that still impact the songwriting as a whole.
In conclusion, Decryptal's debut Demo does precisely what a Demo should; it got me curious over what the band could release in the future. Perhaps with something a little cleaner, clearing away the muddiest portions of their performance to really drive home the clarity of their malice, I think we could get a full length release worth talking about. For their first ever release as a band however, it must be noted how exemplary and professional it comes across as. This feels like a band who have been doing this for years, far from being something that's meandering down through their first outing together. For five tracks straight, Decryptal unfurl all they've got to offer right now. It's been some time since I checked out a Demo but I'm glad it's from Decryptal this time round. Colour me interested.