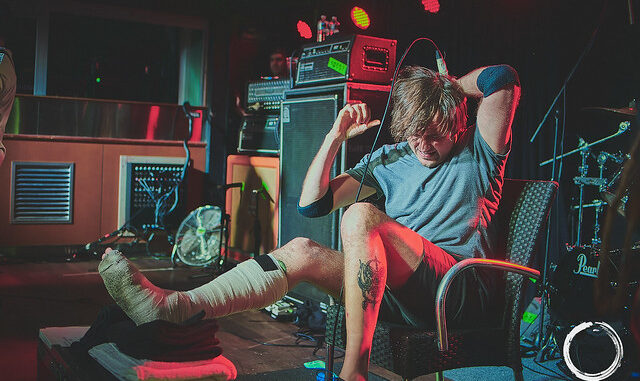 Live Review: Napalm Death – Club Academy, Manchester
8th March 2023
Support: Escuela Grind, Siberian Meat Grinder, Dropdead
Words: Dan Barnes
Photos: Rich Price Photography
Napalm Death's Campaign for Musical Destruction tours have been around for a generation now; in fact, the oldest tour shirt I can still get into is their CMD one from Manchester International II when they wrecked the place with Obituary and Dismember back in 1992.
Although postponing by twelve months was a disappointment at the time, it has allowed Escuela Grind and Dropdead to join the tour and that was never going to be a bad thing.
Hitting the stage early is Escuela Grind, who deliver a savage performance of heavy, dirty riffs and a punk attitude. Hardly any wonder the band hit so hard when you considered their current album, Memory Theater, was produced by Kurt Ballou of Converge.
Their version of Grind is mixed with a hearty dose of Death Metal straight out of the Dying Fetus mould and there is far more to Escuela Grind's intention than just to shred skin.
Siberian Meat Grinder seem to have brought the central Russian weather with them, but their performance is anything other than frosty. You could argue that SMG are the light-relief for the night and, certainly when compared to their three touring companions, SMG lean toward a thrash and hardcore sound with a sprinkling of old-school Hip-Hop.
With a set heavily based on the new(est) record, Join the Bear Cult, SMG still manage to pummel and pound Manchester this evening with big, bouncing riffs, gang vocals and are even joined on stage by a surprise special guest: someone in a Bear costume. Perhaps lacking the production value of Iron Maiden's Eddie, it must be remembered that it's all relative.
There's the occasional flourish added to the sound to remind the band of home but generally Siberian Meat Grinder are a fast and furious thrashing machine, who cannot but help borrowing from a multitude of sources.
Dropdead returned from a long hiatus in 2020 with a first new album since 1998. Taking their name from the Siege track, Dropdead's time away has not seen them mellow in any way. Rather the opposite as they delivery one short, sharp shock after another.
Another Kurt Ballou influenced band producing walls of noise bursting with rage and ire to assault the Club Academy's sizable throng. Dividing the set into political themes against which to rail, Dropdead's time is limited and their departure - although signalling imminent death by napalm – comes far too soon.
Now, I've seen me many a Napalm Death show – in the interests of full disclosure, they are one of my very favourite bands – but I don't think I've ever seen one like this before.
Shane's absent, but that was the case at Hammerfest back in 2017; John is still covering Mitch's live guitar work and has been for sometime now and Barney broke his ankle in Munich and is forced to rant and snarl his way through the set from a seated position. There's only Danny seemingly unaffected at this point.
Rather than cancel again, Napalm soldier on with a replacement bassist and a convenient chair. Opening with Narcissus from last year's sterling EP, Resentment is Always Seismic, it appears the cutting edge of the band has been sharpened by the adversity.
Barney is his usual animated self, though this time it from the waist up, as the band run through the early set's focus on the Throes of Joy… record. Backlash Just Because, Fuck the Factoid and Contagion all show what we all know: that Napalm Death still have – if you'll pardon the expression – a bellyful of salt and spleen. The band would regularly revisit the record throughout the night, but as the set went on more and more of the older tracks are aired.
Obvious fan favourite Scum went down a storm and that was followed by the Utopia Banished track, I Abstain. As that album is probably my personal favourite Napalm record of the Nineties, it was a joy to hear a less-popular cut being dusted off on this tour.
Hearing the likes of I Abstain and Suffer the Children, both originally recorded as a five-piece, recrafted, gives them a different sound, fresher and more contemporary to the Napalm of 2023.
Same could be said for the Dorian/ Steer/ Harris-era tracks Mentally Murdered, Lucid Fairytale and Unchallenged Hate – and to a lesser extent The Kill and Dead (You Suffer is a bit more difficult to gauge in this regard) – to hear them represented by ostensibly a new band allows them to be reinterpreted.
When All is Said and Done and Amoral suggest there is a nugget of the commercial in the Grinding heart of the band and their inclusion shows only the breadth of Napalm Death's creative ambition.
The usual Dead Kennedy's cover of Nazi Punks Fuck Off is the penultimate song of the night, leaving only Siege of Power to round off the evening.
Another campaign and more music destroyed. Napalm Death prove themselves to be the epitome of triumph over adversity and the diamond in the crown of UK extremity. Dropdead, Siberian Meat Grinder and Escuela Grind show themselves to be worthy of sharing the stage with legends, hopefully making a host of new fans along the way.