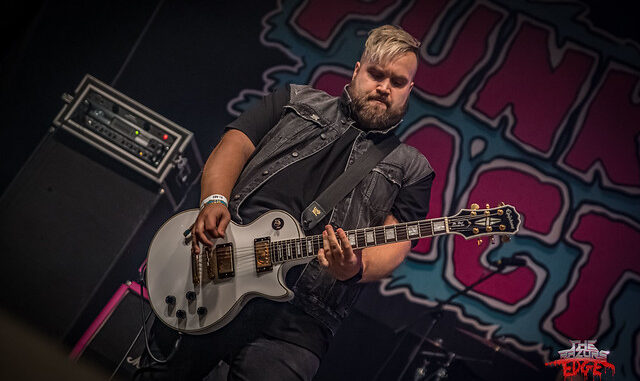 Live Review: Punk Rock Factory – O2 Academy 2, Birmingham
5th March 2023
Support: Sean Smith (DJ Set), Say It Anyway
Words: Jamie Westwood
This evening saw me entering the O2 Academy 2 for the first time since April 2015 for an independent wrestling event but tonight was something completely different to that as tonight North Wales finest were bringing their pop punk party to Birmingham. The first thing you notice as the crowd begins to grow is that this is very much a night for people of all ages to enjoy as you see kids as young as 8 attending with their parents in tow to enjoy a great night of music.
Before we got to see any live music though we had Sean Smith (host 'Sappenin Podcast and former vocalist of Raiders and The Blackout) playing music for the crowd to enjoy and enjoy we did! Playing a great mix of pop punk classics from the 2000's like Good Charlotte, Less Than Jake, New Found Glory and even… Vengaboys? Which I think might have gone down better than the rest with the whole crowd singing and dancing along.
Kicking off the night as far as live music is concerning was Say It Anyway a young pop punk group from South Wales , by way of Bristol who only released their debut EP in May 2022. I personally had never heard the group before so was excited to see what they could bring and bring it they did. Minus a small technical issue with the bass sound during the first song this group won the crowd over immediately as a band who looked like they were having the best time on stage playing their music and you could tell they were walking away with a whole new group of fans by the end of their set. They have a sound very reminiscent of that early 2000's pop punk sound with plenty of 'woahs' in their lyrics. They also made sure the crowd were part of the show with audience involvement during their song 'Whatever' and even an 'Oggy Oggy Oggy' chant. This is definitely a band to keep your eye on in the future.
After a break and another set from guest DJ Sean Smith, which of course involved more singing a long and dancing from the crowd it was time for the headliners of the night. Punk Rock Factory are a band I have been following for a little while now thanks to social media and was very excited to finally get to see them live, for a group that hasn't released any of their own material and is essentially a covers band the following they have got is incredible to see and the packed o2 Academy 2 in Birmingham showed that perfectly.
As the lights went down and crowd went wild it was time for Punk Rock Factory burst onto the stage with their rendition of the Backstreet Boys classic which truly got the party started and the crowd singing along and I think the whole crowd immediately knew they were in for a great set from these guys. The group had put together a great set list of Disney classics like 'Under The Sea' and 'Can You Feel The Love Tonight' to classic TV themes like 'Pokemon', 'Red Dwarf' and a personal highlight for myself 'Mighty Morphin Power Rangers' as well as performing songs off their upcoming album 'Its Just a Stage Were Going Through' including 'Rewrite the Stars' and 'Defying Gravity' and even a surprise guest appearance from this evening's DJ Sean Smith on the 'Papa Roach' classic 'Last Resort'
After closing the night out with the Disney smash hit 'Let it Go' you could tell that the band and crowd had the time of their lives tonight and this group will continue to grow. PRF vocalist Peej stated several times how the great the crowds in Birmingham have always been to the band and how one year prior they played the o2 Academy 3, one year later they're in Academy 2 and in November of this year you will see the group at The Institute, a sure sign that this is just the beginning for this group.
It's amazing in a world full of negativity and hard times that were all struggling and suffering with at the moment to just unwind, kick back and enjoy this pop punk party and we couldn't have asked for a better group to steer the ship tonight