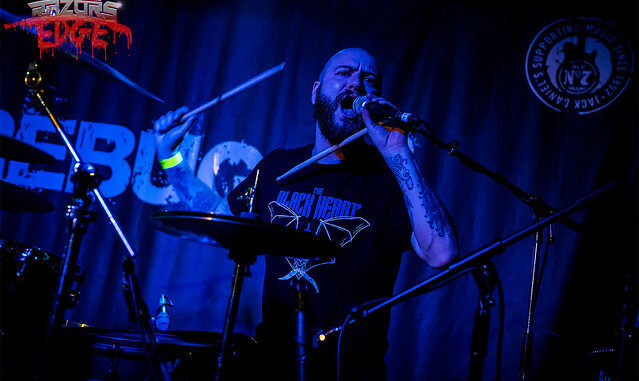 Live Review: Tuskar / Inhuman Nature – Leicester
5th March 2023
Support: Mage
Words: Rick Eaglestone
Photos: Sean Larkin
Leicester is a place I'm very familiar with and having been there recently for a few Metal to the Masses heats I once again made my way to the Firebug to see a trio of bands whose poster I had seen previously and was delighted and excited about the billing.
First up where Mage who were returning to a live setting in over a year, this was either the third of fourth time I've seen them live and in all honesty they looked and sounded like they had never been away even throwing in a new track 'Vino Bambino' – as well as my personal favourite 'Dark Matter' the band also announced they will be holding a charity gig in the same venue on November 18th in remembrance of founding member Ben Aucott.
Following Mage where Inhuman Nature and well, they are band I have listened to over and over, and all honesty as pulverising as there music is seeing them for the first time live made me feel that I've been listening to it at the wrong speed as they are blisteringly aggressive on stage, this coupled by the fact they had a fair few fans in attendance who has travelled to see them it was no surprise when a pit started to open up and erupt. I felt like I had been in the gym solid all day after just witnessing that for the first time and honestly, I need more.
Closing out the evening was two-piece Tuskar whose debut album 'Matriarch' is a great example of how to blend doom and intensity, somebody told me that they sound like there are about five people on stage and honestly that was an incredibly accurate statement and seeing them personally translate that onto the stage was really great, again another first for me seeing them live and since then its felt that I've had them on a continual loop for a lot of the day.
A great blend of styles and a thoroughly enjoyable evening