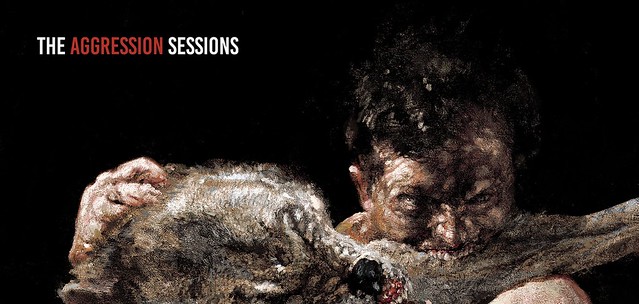 EP Review: Various Artists - The Aggression Sessions
Reviewed by Liam True
Two of deathcore's biggest bands and the rising hardcore hero's whose name you can't escape. A split album between two bands isn't unheard of, but when you add another band to the mix that's when you're stepping into territory you rarely see. A three-band split is rarer than a matching pair of socks. Not unheard of but when it happens it's either a great pairing of something has gone awry.
Fit For An Autopsy & Thy Art Is Murder have both done a triple split in the past with The Acacia Strain back in 2016 titles The depression Sessions. Now we're here 7 years later with the Aggression Sessions. 6 songs. Three originals and three covers by each band.
Fit For An Autopsy start the EP with Hellions. A meaty slice of what's to come on the EP. From the outstanding drum work from Josean Orta to the technical riff work from Will Putney, Tim Howley & Pat Sheridan it's a pure deathcore anthem. That'll have you screaming along with Joe Badolato with his grizzly vocals as he snarls 'Rise Hellions'. After you break your neck headbanging to some of the harshest breakdowns so far this year. A song that was made to be an opening song for their live performances as the opening song for the EP will be a tough one to follow. Not that the aim is to one up another that is.
Up next is Aussie deathcore heavyweights Thy Art Is Murder with Until There Is No Longer. Their first release sing 2020's Killing Season. Starting out with a slower opening to what we're usually treated to from the band it sounds almost like a song from The Satanist from Behemoth, which is no surprise considering the band sees them as a major influence. This wears off as Jesse Beahler hits us with his furious blast beats as guitarists Sean Delander & Andy Marsh wail along in the background before CJ McMahon chimes in with his signature growls that are like no other in the scene. Irreplaceable and spitting his highs and lows like napalm you can hear Kevin Butler's bass guitar rip through the clean guitar parts before the gritty riffs swallow you whole again. There's not a doubt in my mind that this song will make an appearance during their Decade Of Hate tour this year. And with FFAA supporting them of their two London dates it'll be a show not to miss.
Last up are Sheffield's best export since While She Sleeps. Malevolence have made a huge splash in the hardcore scene and have since been heard worldwide with 2022's Malicious Intent gaining them support slots with many bands, most notably Trivium, who took them on a full European and UK headliner and will be supporting them during their American & Australian tours also. Their song Waste Of Myself starts with a vicious riff from Josh Baines & Konan Hall as Alex Taylors vocals lull you in as their partially distorted by dampening before he hits full volume with the band in tow as Charlie Thorpes drums have never sounded fresher. Their signature blend of hardcore beatdowns and melodic death metal riffs work wonders as they hit you with powerful breakdowns, guitar solo's and Hall's less harsh vocals taking the chorus'. Not clean but not as harsh as Taylors but they fit the band perfectly as his baritone like vocals work well with the slower chorus before the band launch back in. Ending the song with Taylor screaming 'Fuck' it's shown the brutality the band can unleash in a single song, never mind a full-length album. The band are on fire and are rising higher. Keep your eyes on these.
Noe for the cover side. FFAA take charge with a faithful cover of At The Gates' Under A Serpent Sun. Apart from the noticeable guitar sound and Badolato's near perfect vocals you'd never really know the difference. FFAA cover one of the best At The Gates songs with complete and utter justice while adding their signature sound to give it more flair. Is it better than the original? Nothing will beat the original version, but FFAA come pretty damn close.
Thy Art covering a staple Cannibal Corpse song is a recipe for absolute carnage. While staying true to the original as possible the band themselves perfectly replicate Hammer Smashed Face with ease. The guitar slides, that perfect bass moment and the blast beats and riffs working in unison as CJ's vocals are front and centre. Gone are his higher screams as he utilises his lower growls throughout in homage to the original version. While his highs would have been welcomed and working in some places, his lows are impressive and if needed, he could easily fill in for Corpsegrinder for a date or two. A brutal and face melting cover.
Ending the entire EP is Malevolence with their version of Left Outside Alone by Anastacia. A mind-boggling choice when you first look at it, but after you get into the song you realise it's not only an odd choice, but a perfect cover. Hall's gritty vocals fit perfectly as the band assault you with a build up before Taylor and the band are on top form. Slow, grungy and the background guitars are all perfectly done. There's no other way to really describe it. It just works. There's not a thing about it that makes me feel that they should have picked a different song. The double kick assault from Thorpe on the chorus is amazing. It's something you need to hear for yourself. Their unique sound makes it their own song and not a cover anymore. Left Outside Alone is not property of Malevolence.