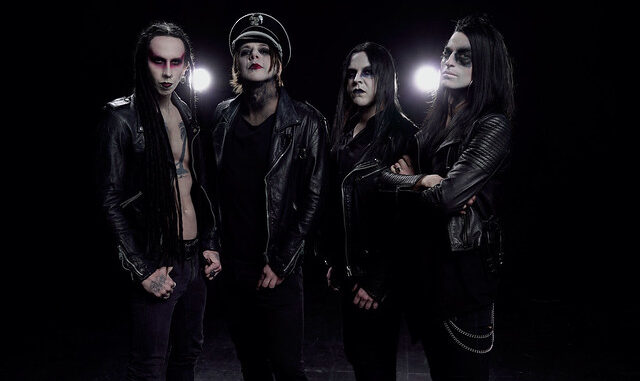 Album Review: Deathstars - Everything Destroys You
Reviewed by Dan Barnes
More than eight years in the making, Everything Destroys You sees Sweden's Industrial collective, Deathstars, finally releasing some new material. Giving themselves time to recharge the batteries – and the small factor of 'something going around' – meant the band could focus on the process of creating a new record. Following a release like The Perfect Cult, which saw Deathstars supporting Rammstein on the European leg of their Made in Germany tour, was never going to be an easy process.
A slight shuffling of the pack has gone on since the last record, with long-time drummer Oscar Leander exiting and his place being filled by Marcus Johansson – or Nitro as his band moniker has become. Back in the fold is rhythm guitarist Cat Casino after a six-year hiatus, restoring the group to a five-piece.
Everything Destroys You sees Deathstars sticking to what they know, which is combining solid industrial riffs and beats with dark, symphonic gothic rock. Imagine a collaboration between Fear Factory and Fields of the Nephilim or Strapping Young Lad and The Sisters of Mercy and you're not going to be too far off.
There are clear demarcations throughout the record between styles: This Is opens proceedings with huge bombast of soaring keyboards and unstoppable beats; Anti All pushes it further through the addition of fat bass lines and chunky guitar and Blood for Miles features some six-string action that could best be described as savage.
One the other hand, when Deathstars go Goth, they do so with some aplomb. Midnight Party confirms its death rock credentials with Whiplasher Bernadotte's whispered vocals, the sharp, stabbing rhythms of Between Volumes and Voids further adds to the anachronistic feel by supplementing the vocals with choral female voices and Church of Oil slows things down to a crawl as it oozes its way along.
In Everything Destroys You – Everything Destroys You [no, it is called this and it's not a typing error] and An Atomic Prayer, Deathstars bring both sides of their musical persona into a coherent whole. There is an Eighties feel to the title track's slow progression, akin to a less-morose Type O Negative, with its powerful riff and processed vocals. Whereas, An Atomic Prayer comes across as the albums more humanistic moment, where the Gothic and the Symphonic shake off the shackles of the Industrial to form the most coherent musical moment on Everything Destroys You.
Whiplasher Bernadotte's vocals range from the grotesquely whispered to the triumphantly orotund yet are always perfectly in tuned to the music. Guitarist, keyboard player and album producer, Nightmare Industries keeps everything moving in whatever position he happens to find himself at any given time and bassist, Skinny Disco does much of the heavy lifting to maintain the driving industrial rhythms throughout.
It was a shame the band had to cancel their February tour as I was looking forward to seeing them again. The last time had been at the final Bloodstock indoor show in 2006 when they played an interesting set to a, sadly, diminishing crowd. Hopefully they'll be able to come to the UK soon enough when these tracks will be unveiled in all their dark majesty.