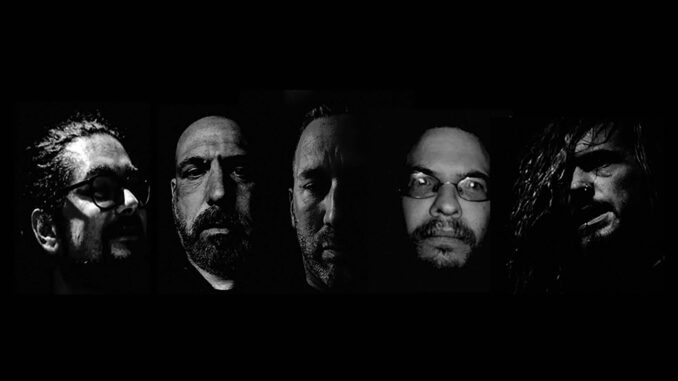 Grief Symposium Release Single 'Descent Into Pandemonium'
Grief Symposium drop new single 'Descent Into Pandemonium' today. This is the second single from their debut album '...In the Absence of Light' due out through Church Road Records on 27th January.
Check out the video below.
Doom / death doesn't begin to cover it… with roots in the darkest elements of metal - merging slabs of stately doom-laden heaviness, aggressive punches and wrapped in an atmospheremost foul borne from gothic influences.
The sound of Candlemass and Celtic Frost being tortured in the most bloodied and eldritch ways; of Portal and Immolation being forced to stare deep in reflection at the core of their own soul. Grief Symposium is the uncomfortable musical vortex that captures all of this. Raised on the greatest of UK metal traditions of the Peaceville and Earache greats, yet imbued with contemporary power and influences, the morose heart of …In The Absence of Light beats darkly. Unafraid of that which juxtaposes with the darkness, Grief Symposium revels in the compositions and marries the musical and lyrical journey. This is not a straightforward, or easy listening experience that awaits.
The band comment:
"…In The Absence Of Light has involved deliberately opening old scars, for me, and explores human vulnerability and choices.

'Descent…' in particular is about those key moments in life that are insignificant to others but so, so vital to each of us - where not doing anything is the weakest and worst of options, but all the paths laid out in front of us lead to death; whether that is the little-deaths of fears, or the obliteration of certain parts of who you are, and what you've become. 'Descent…' is that moment of deliberately exposing wounds, ripping them open, pouring in salt, and searing with flame, if only to properly and finally begin the healing process.  

If we don't descend through the darkest parts of ourselves, how can we truly see who we have become and find the resolution to change, whatever the consequence of those decisions may ultimately be. The first step is to descend, to turn the inner eye to see the path. Where fear has gone there will be nothing. Only I will remain."
Pre-order the album
here
.