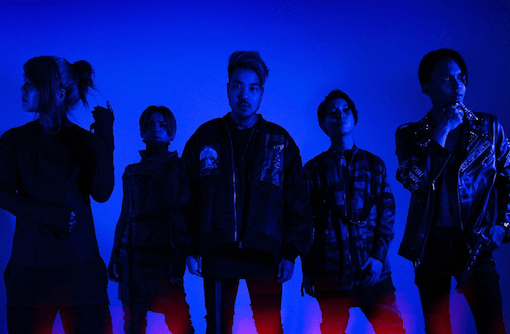 Crossfaith 2020 Tour.
You'd think if a band is going to make a concept album about a troubled future, there's no better time to set it than the present. Doing things the obvious way isn't Crossfaith's style, though.
Says frontman Kenta 'Ken' Koie:
"There are so many reasons we decided to set it in the future. Our attitude has always been that we should be constantly pushing to make something different."
Since their inception in Osaka in 2006, Crossfaith have been on the edge of a fusion of rock, metal, electronica and big ideas on their albums; and the edge of euphoria with their live shows. Ex Machina is the album on which they walk that fine, fiery line more skilfully and seismically than ever.
Long-renowned as a live band without parallel having played some of the most prestigious festival stages in the world, Crossfaith continue to go from strength to strength. A peerless set of musical warriors who leave no stone unturned when it comes to experimentation and excitement, through their albums and live performances they have established a reputation as a truly unique band.
Ken continues:
"A long tour cycle for almost two years with our last album 'EX_MACHINA' is officially done, and now we face the next step for tripping another dimension. It's the full UK/EU Headlining tour 'Synchronicity 2020'. You can expect something new you've never heard from us yet. See you guys in da pit!"
Crossfaith UK/European Tour 2020
Feb 7th(Fri)Sala Caracol, Madrid, Spain
Feb 8th(Sat)Razzmatazz, Barcelona, Spain
Feb 10th(Mon)La Boule Noire, Paris, France
Feb 11th(Tue)TRIX, Antwerp, Belgium
Feb 13th(Thu)Willem Twee, Den Bosch, Netherlands
Feb 14th(Fri)Musik & Frieden, Berlin, Germany
Feb 15th(Sat)Amager Bio, Copenhagen, Denmark
Feb 16th(Sun)Debaser Strand, Stockholm, Sweden
Feb 18th(Tue)Logo, Hamburg, Germany
Feb 19th(Wed)Klub Hydrozagadka, Warsaw, Poland
Feb 21st(Fri)Flex, Vienna, Austria
Feb 22nd(Sat)Dürer Kert, Budapest, Hungary
Feb 24th(Mon)Legend Club, Milan, Italy
Feb 25th(Tue)Backstage, Munich, Germany
Feb 26th(Wed)Schlachthof, Wiesbaden, Germany
Feb 28th(Fri)Kiff, Aarau, Switzerland
Feb 29th(Sat)Gebaude 9, Cologne, Germany
Mar 2nd(Mon)O2 Academy Islington, London, England
Mar 3rd(Tue)C H A L K, Brighton, England
Mar 4th(Wed)The Waterfront, Norwich, England
Mar 6th(Thu)KK's Steel Mill, Wolverhampton, England
Mar 7th(Fri)Riverside, Newcastle upon Tyne, England