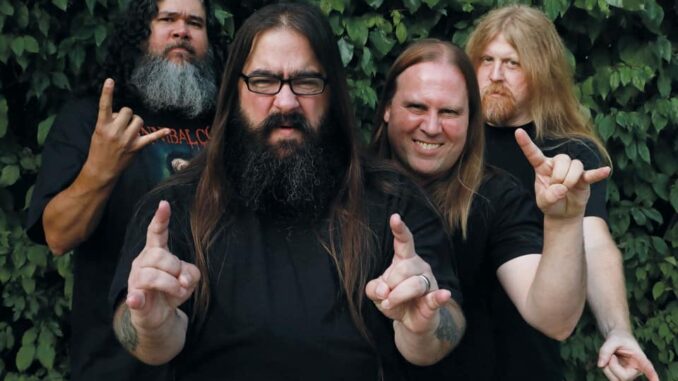 Album Review: Devil To Pay - Forever, Never or Whenever
Reviewed by Neil Bolton
This Indianapolis four piece have been writing and performing music now for quite some time. But life has done its best to stop the creative mind of main man Steve Janiak.  Shortly after forming Devil To Pay, singer/guitarist Steve was hospitalised in a drug induced coma. In this life changing stay in hospital Janiak claims to have been visited by apparitions from the other side.
After surviving this, the first Devil To Pay release appeared. 2003's 'Thirty Pieces of Silver' lead to the recording of the video for 'Tractor F'n Trailer' . This went down well and enabled the band to hit the road. Then things went down hill again, with a record company collapse, unstable line ups and distribution failures, a lot of bands would have packed up and gone home. Not this one.  With further releases in 2006, 2009, 2013 and 2016 those hurdles have only made this now four piece stronger.
So onto 2019's album 'Forever, Never or Whenever'. Track one 'Heave Ho' begins with a simple drum beat that immediately gets my foot tapping along. A chunky guitar riff then kicks in and my head bobs along too. Shortly after the rest of the band join in and a massive smile appears on my face and we are off. This is the lead single from the album and a good choice it is too.
The second track then loses the flow for me, the music now seems to take a back seat with the vocals and lyrics taking over. This may as well be a large people carrier type car as the front seat is a long way in front, Steve is angry and he wants you to know this. The third song carries on in a similar vein, Steve's words still the main focus.
Track four is back to the cool stoner riffs. We then arrive at the reggae tinged 'Your Grave' which was a surprise, but it does show this band do not want to just stay on one path. The further tracks on this album bounce back to the familiar stoner sound and I just wish that track two and three were spread over the album I little more so as not to lose any groove created by the lead song. In saying that you don't have to work too hard to get it back.
Devil To Pay release 'Forever, Never or Whenever' on 8th November via Ripple Music.