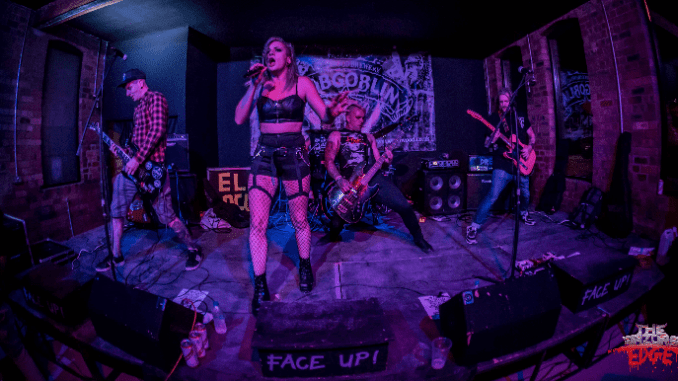 Live Review: Face Up @ KK's Steel Mill, Wolverhampton
KK's Steel Mill is fast becoming the hub of the live music community in the Black Country and indeed across the West Midlands. The venue, a former car production line, has been wonderfully transformed by KK Downing (of Judas Priest) and his team into one of the best live music centres around, with two rooms capable of handling some of the best bands touring today.
It's a mild Friday night in September, the evenings are starting to draw in as the sun sets earlier by the day. KK's tonight plays host to a four band punk bill that highlights a range of acts from across the genre. None of these may be house hold names, but the huge turnout for the show goes to prove that music is alive and well in Wolverhampton.
Opening the evening are four piece youngsters Dead Mob. Youth is certainly on this bands side, and they present themselves at one end of the punk spectrum melding hardcore, metal and punk into one outstanding performance of sound and energy. Brutal guitars and monstrous vocals produce an all out assault on the senses. Despite their youth they are a tight nit group feeding off each other and the audience to give us the ultimate end to the evening.
With the evening hotting up nicely, The Scumbags take to the stage. These boys are out and out punk, high energy, full of anger and angst. Their sound is old school punk, their look is modern day punk but the energy surrounding them is palpable. The crowd is loving their short half hour set rounded out with a fantastic cover of The Ramones 'Lobotomy'.
Black Market Beats present another different take on the punk rock genre. The quintet at their home town show have amassed quite the crowd as they take to the stage. Their sound reminiscent of Irish/American punk bands like the Drop Kick Murphy's amongst others. Its more high energy from both the band and the fans, as the show gets messy. Their performance is a well-rounded punk rock masterpiece, a pleasure to our senses.
To close out the evening are local heroes Face Up. The band are punk with a hardcore twist, the pace is frenetic and the bassline a constant reverberation through you. Vocals from Roxx refreshingly fierce and aggressive alongside killer guitars. Short, sharp, to the point songs ripple through the building with the feeling of an earthquake and its aftershocks leaving us all battered, bloody and bruised.
This was the first of the Mayhem Management run shows at KK's Steel Mill. The organisation will be putting on monthly events showcasing local bands across many music genres. By this first showing, we can safely say these nights are well worth attending!