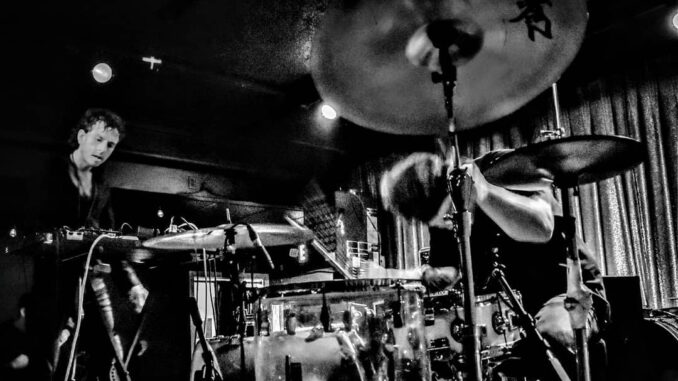 Album Review: Haunted Horses - Dead Meat
Reviewed by Dan Barnes
Hailing from Seattle, Washington, Haunted Horses is an industrial punk/noise rock/experimental duo comprising of drummer Myke Pellys and vocalist-cum-noise-maker Colin Dawson. From the get-go it is obvious that Dead Meat is going to be something of a challenging journey; the off-kilter, at times almost jazz, drums and chaotic buzz of Video Drone creates an uncomfortable opening as gentle, ambient passages and thunderous walls of dissonant noise collide against each other.
The album settles for 'Pleasure Palace' with its more structured musicality and industrial soundscape. Here, and elsewhere, as on 'Warm Body' and 'Wixkle' the massive industrial pounding gives the album a weight beyond what might be expected from just two musicians, though the latter still manages to compliment the resounding smashes with moments of ambient respite through disembodied hums and repetitive loops.
Dead Meat is a record which sees itself shifting focus across its all-too brief running time. One moment it is pounding with industrial fervour, the next its losing itself in the mire of otherworldly sounds and disembodied vocal lines. The heart-beat pulse at the beginning of 'Die Forever', the gentle strains at the start of 'The Continental' merely mask the spirals of sound created by Haunted Horses. Both 'The Continental' and 'The Banker' are home to some fierce dance beats which wouldn't be lost in the sweated and cavernous rooms of Creamfields.
Haunted Horses manage to juxtapose the upbeat with the morose and even channel the spirit of Mr Thomas Gabriel Warrior at his most experimental. The dissonant buzz and heavy bass of Vessel reveals lines that would sit at home on Celtic Frost's Into the Pandemonium or on the criminally overlooked Apollyon Sun project's Sub record.
Dead Meat is not meant to be an easy listen but it is a rewarding one. Thunderous and chaotic walls of sound meets bleak, dissonant experimental noise in a half hour to challenge its audience. This is not the normal run-of-the-mill rock record but there's something comforting in the fact that bands like Haunted Horses exist and are making albums like Dead Meat.
Haunted Horses released 'Dead Meat' on November 8th.