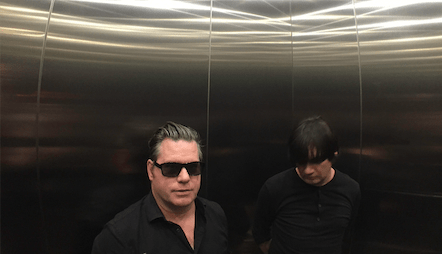 ...And You Will Know Us From The Trail Of The Dead Launch New Video.
…And You Will Know Us by the Trail of Dead bring fans another new song today with the release of "Into The Godless Void." Everything kicks into full pelt with this noisy and thrilling existential anthem that follows the news of the band's first new album in six years, their upcoming 25th year anniversary and a European headline tour. Just last month …And You Will Know Us by the Trail of Dead announced the January 17th release of X: The Godless Void and Other Stories along with their first new song and video for "Don't Look Down" which Rolling Stone called "…a bustling rock track carried by rushing drums and fuzzy guitars…."
"Into The Godless Void" is a track that founding member Jason Reece says deals with "this existential woe that all humans tend to go through – feeling that weight that plagues the mind." Fellow founding member Conrad Keely adds, "Songs have a life of their own. If you listen to them, they'll tell you how they want to manifest."
Watch the video for the track here:
As they enter their 25th year together, Trail of Dead is back to their core with Keely and Reece at the helm and basing themselves in Austin where Reece has been holding it down since the band's early days.  Keely returned in 2018 after a five-year stint in Cambodia and earlier this year they took the band on the road for a 20th anniversary tour of 1999's Madonna.
The band have also announced European headline shows in support of the new record, find the full list below:
Sun 09 Feb 2020 Dunquerque, France, Les Quatre Ecluses
Mon 10 Feb 2020 Paris, France, Le Petit Bain
Wed 12 Feb 2020 Cologne, Germany, Stadtgarten
Thu 13 Feb 2020 Bielefeld, Germany, Forum
Fri 14 Feb 2020 Basel, Switzerland, Sommercasino
Sun 16 Feb 2020 Reutlingen, Germany, Franz.K
Mon 17 Feb 2020 Munich, Germany, Strom
Tue 18 Feb 2020 Vienna, Austria, Flex
Wed 19 Feb 2020 Berlin, Germany, Festsaal Kreuzberg
Fri 21 Feb 2020 Hamburg, Germany, The Stage Club
Sat 22 Feb 2020 Copenhagen, Denmark, Loppen
Sun 23 Feb 2020 Stockholm, Sweden, Stockholm Nalen Klubb
Mon 24 Feb 2020 Oslo, Norway, Vulkan Arena
Wed 26 Feb 2020 Amsterdam, Netherlands, Melkweg
Thu 27 Feb 2020 Nijmegen, Netherlands, Doornroosje
Fri 28 Feb 2020 Brussels, Belgium, Botanique
Sat 29 Feb 2020 Brighton, Sussex, England, Patterns
Sun 01 Mar 2020 Bristol, England, The Exchange
Mon 02 Mar 2020 Nottingham, England, The Bodega Social Club
Tue 03 Mar 2020 Edinburgh, Scotland, The Mash House
Wed 04 Mar 2020 Manchester, England, Night & Day
Thu 05 Mar 2020 Newcastle upon Tyne, England, Riverside
Sat 07 Mar 2020 Leicester, England, The Cookie
Sun 08 Mar 2020 Huddersfield, England, The Parish
Tue 10 Mar 2020 London, England, The Dome
Wed 11 Mar 2020 St Albans, England, The Horn