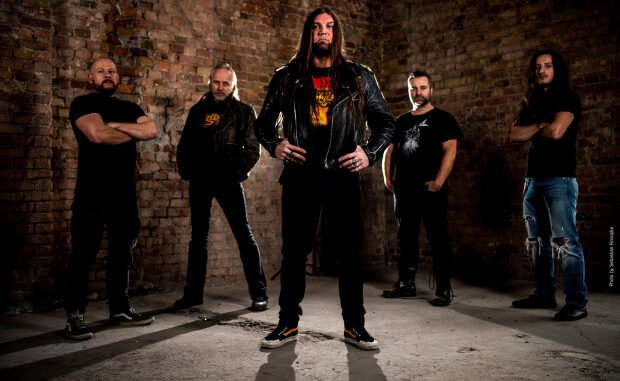 Album Review: Bonded - Rest In Violence
Reviewed by Gareth Pugh
Bonded is basically the result of Bernemann (guitars) and Markus Freiwald (drums), both of who were fired from Sodom via a WhatsApp message [if you believe the report] forming a new band as an outlet for their combined creative talents. Joining these guys are Ingo Bajonczak (vocals), Chris Tsitsis (guitars) and Marc Hauschild (bass).
Being a chap who loves a bit of teutonic thrash, I was quite looking forward to this one. I must admit I was expecting something similar to Sodom's last release with these guys; the rather good 'Decision Day', but what we actually get is something much more 'American' sounding. The first thing you notice is that there's plenty of tasty riffing, Bernemann always came up with great riffs in his 20 plus years in Sodom, and he doesn't stop here.
Song wise there's some interesting things going on, 'Godgiven' is a great choice as opener with a strong chorus, and memorable hooks, 'Je suis Charlie' is exciting and strangely shares a very similar opening riff to Acid Reign's track 'Hardship', although that's where the similarity ends, the best track here though is the title track itself 'Rest in Violence' and the main reason for that is it has the legendary Bobby 'Blitz' Ellsworth on guest vocals. To be honest the whole song comes across as a lost Overkill track, Blitz is on top form and really lifts the song to another level, and there lies the biggest problem with this album. It's good, but the title track shows how good thrash can be, and the rest of the songs don't really come anywhere near. 'The Rattle and the Snake' has an out of place harmonica solo. 'No Cure for Life' is a slow burner, but doesn't really work for me, the rest sort of pass in a bit of a blur until last track 'The Outer Rim' where the band try something completely different, it's a ballad with a style all of its own with some tasteful acoustic guitar and a gorgeous melodic solo before it speeds up to a heavier end, and Ingo gives his best performance of the entire album. It's a great song although it is a strange choice to close with.
All in all it's a solid and competent debut album, the musicianship is top notch and the production is a typical strong, clear, modern metal sound, my biggest issue are the vocals, they are a bit generic, but as a whole the album is enjoyable while listening to it, with great riffs and the odd strong hook. Afterwards it is a bit of a struggle to remember individual tracks, apart from the ones mentioned and especially the title track, and all that made me want to do is go listen to the last Overkill record. That's probably a bit unfair, and I'll certainly be looking out for this band as I think after a robust first release, and as they gain confidence, Bonded will only get stronger.
Bonded release 'Rest In Violence on 17th January via Century Media Records.