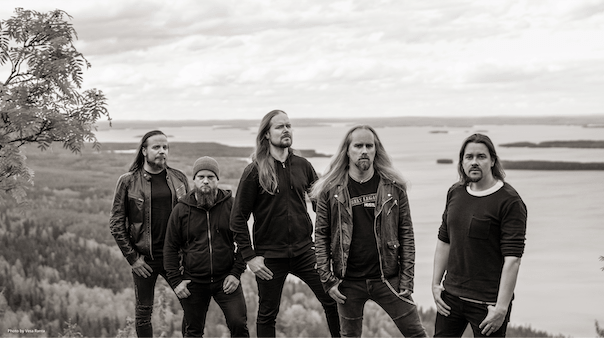 Interview: Niilo of Insomnium
Interviewer: Tim Finch
Insomnium are riding high from the success of 'Heart Like A Grave' the bands latest album which hit #1 in the Finnish charts and has received critical acclaim. I sit now with frontman and bassist, Niilo, just prior to the opening date of their UK tour to catch up on all things Insomnium.
I started by asking him how he feels the latest album has been received by the fans.
Niilo: I think that the feedback has been really good, I feel like our fans like the album a lot, I hope that we even gained some new fans from it - although that remains to be seen. In Finland especially, it was #1 in the Finnish charts and Inerferno magazine chose it as album of the year and there was a second magazine who is it as album of the year too. The feed back and reviews have all been excellent.
The Razor's Edge: You must be proud of what you've achieved?
Niilo: Well of course! I am proud of everything that we've done. With every single album. The first two album we were learning the craft, we were still young and you can hear it. I'm still very proud of everything we've done.
Heart Like A Grave it has ten songs and it's an hour of music because we didn't want to leave anything out. Some people might say "it's too long albums these days should be forty minutes". We knew what we wanted, we wanted to release an album like this and we did.
The Razor's Edge: It's the first album with Jani. What made you add a third guitarist into the mix?
Niilo: Basically because Ville works in York University here in England. He has been here ten years already. He has a day job that makes it difficult for him to do the tours and the situation has been like this for a few years now. We've had substitute guitarists, a couple of guys before Jani but then we found Jani we also started thinking should we add him as a permanent member. We talked about it for some time and then a year and a half ago we officially asked Jani "we he marry us" [laughs] and become the third guitarist in the band and practically play with us every time.
Now we have three guitarists, every night two of them will appear and you never know which two! Like last week in Finland we played without Markus as he was with Omnium Gatherum in the cruise in the Caribbean so it was Jani and Ville playing guitars and I think it worked really well. Jani played the solos and it worked really well.
It's not a traditional thing, but it makes it possible for us to keep on touring and we don't have to miss any shows.
The Razor's Edge: The sound, the song writing show signs of progression, of how you've developed since the previous albums. Did you approach the writing or production of the album any differently to previous releases?
Niilo: Well now we had Jani, one extra guy to write the songs and affect the arrangements. Jani took a big part and there are three songs where he contributed as a song writer and then we also chose Jens Bogren to mix and master the album. We hadn't worked with him before and we know he does great sound and we really wanted to work with him. I think it's our most professional sounding album as a whole. That was a new thing for us.
The Razor's Edge: How long did it take from initial ideas to actually having the finished album?
Niilo: There are some riffs and parts that are really old. I can find stuff in my computer and archives that I think "ok I haven't used this before and let's see if I can make a song out of it". Most of the songs we wrote a year before we went into the studio. So 2018 we write most of it and 2019 we went into the studio.
The Razor's Edge: There's a distinct atmosphere created by your music on record. How do you recreate that live?
Niilo: We all of course we try to do it as well as possible. But there's also a difference between Insomnium on the album and in the live situation. On the album we are very serious and very dramatic, sad and atmospheric. But in the live situation it's a rock and roll show so it's about having fun and a good time. There's moshing and there can be funny things going on we are not grumpy on stage, we try to have a good time. There's a different feel there we try to recreate the atmosphere of the album but there's a difference there.
The Razor's Edge: You're on tour right now, how has that been going so far?
Niilo: We started playing these songs in October in Finland then a five week European tour, then had a Christmas break and then last weekend we played Finland again. This morning we flew here, we didn't get much sleep last night we had to be up early at the airport. It's always like that when you start a new tour, first day you're going to be tired. When we get on stage you immediately forget that you were tired, crowd is there and you are pumped and energetic. After that we'll get to sleep pretty fast.
The Razor's Edge: When the tours finished, what's next for Insomnium? Where do you go from here?
Niilo: Well we have a show in Dubai but we just heard the flight is cancelled because of the Iran situation. Let's see what will happen, I hope we can go there any play.
Then we have a US/Canada tour in March, April with Omnium Gatherum. So Markus has to play two shows every night. Fun for all of us but not for him. Scandinavian tours and then the summer festivals... then I can't reveal anymore, but we'll be busy all year!
The Razor's Edge: In terms of touring; who would be your ideal touring partners?
Niilo: In an ideal world I would like to tour with Type O Negative but that's not possible any more. It would make a lot of sense for us to tour with Amon Amarth, Arch Enemy or Opeth! I was just watching Opeth two days ago in Finland and it's a really good looking show.
The Razor's Edge: Have you got any bucket list venues or festivals you've never played but really want to?
Niilo: Well we haven't been to South America. Which is a bit strange. I'm pretty sure we'll go there this year or next year they are trying to make it happen with someone reliable. A good promoter who will not just take our money and run. [laughs].
It's a different world going there but it would be interesting to try it. We played Mexico last year and it was really fun.
The Razor's Edge: Thank you for talking to us!
Niilo: No worries, thank you.