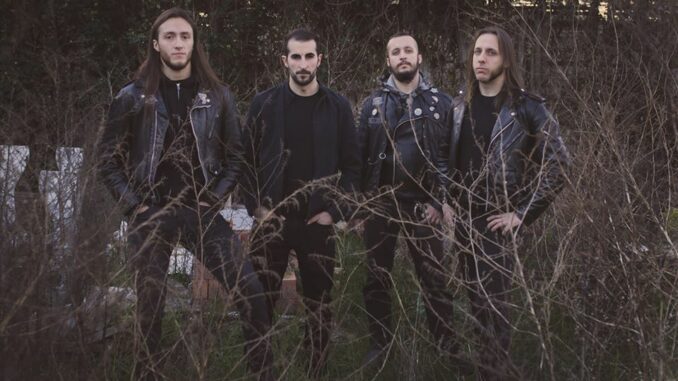 Interview: Violblast
Interviewer: Tim Finch
Not heard of Violblast before? Well you soon will have. The Spanish thrash metal outfit played Bloodstock Open Air Festival last year and are now set for a January tour of the U.K. So just prior to their tour kicking off, we sat down with the guitarist Sebas to find out what the road to this point in their career had been like.
The Razor's Edge: Welcome to The Razor's Edge! For those reader's who may be unfamiliar with you guys. Who/what are Mass Worship?
Sebas: Violblast is a dark thrash metal band from Figueres, Spain, formed in 2012.
The Razor's Edge: What would you say your influences are?
Sebas: Wow, so many, from classic heavy metal bands to extreme metal bands. But the main influences I would say Slayer, Metallica, Cannibal Corpse, Gojira, Lamb of God.
The Razor's Edge: Thrash metal is having somewhat of a resurgence of late. Are you ready to capitalise on the new wave of popularity?
Sebas: That is good for us, there is so many people inside the metal world that are thrash metal fans, but I have to say that we write our songs completely open minded, if a song is more death metal, great, if it's more dark and "blacky", perfect. That's I think a problem in the thrash metal world, most of the bands sounds the same, and we try to not do that.
The Razor's Edge: Of the new generation of thrash bands, who are you listening to? What up and coming bands have caught your attention?
Sebas: I'm more death and black metal fan than thrash, but my favorite band is Slayer. From the new generation, I like Havok, and Angelus Apatrida have really good songs.
The Razor's Edge: You played Bloodstock Festival last year. How did the opportunity to play the festival arise?
Sebas: Thanks to Andrew from our record label, Hostile Media. It was a pleasure to be there, a great experience, being in the same festival with bands that we listen to, as Sabaton, Anthrax, Powerwolf, etc.
The Razor's Edge: How did the Bloodstock show compare to shows back in your home of Spain?
Sebas: I think as it was the first time we were nervous. [laughs] But we gave the 100% as always.
The Razor's Edge: Now your are heading back to the UK (and indeed the whole of Europe) for a tour?
Sebas: Yes, we are coming in January from the 18th for six dates on the island, and then 8 more gigs in Europe. We are looking forward to be on the road again outside of our borders, especially in the UK, where we know there is a good support for the underground.
And after that tour, we have more plans for 2020. Stay tuned!
The Razor's Edge: So what can fans expect from a Violblast show on this tour?
Sebas: A mix from our 3 albums, a powerful show, prepared to don't stop banging your heads.
The Razor's Edge: What bands would you love to go on tour with?
Sebas: Slayer, no doubt. But, personally and being more realistic, Watain, Destroyer 666, Vader, Venom or Venom Inc. Bands that I really like and that Violblast can fit so well with on the road.
The Razor's Edge: Are there any venues, cities or countries on you bucket list to play?
Sebas: The whole USA and South America. Especially South America, as two of us are from there, there is like a connection. And everyone know that they are the best passionate crowd.
And one of the venues that I would love to play is Razzmatazz 1 here in Barcelona, or the arena Palau Sant Jordi, also in Barcelona, or any stadium in the world
The Razor's Edge: Thanks for taking time out for us, and enjoy the tour!
Sebas: Thank you and I hope to see you all at one of our shows over there!