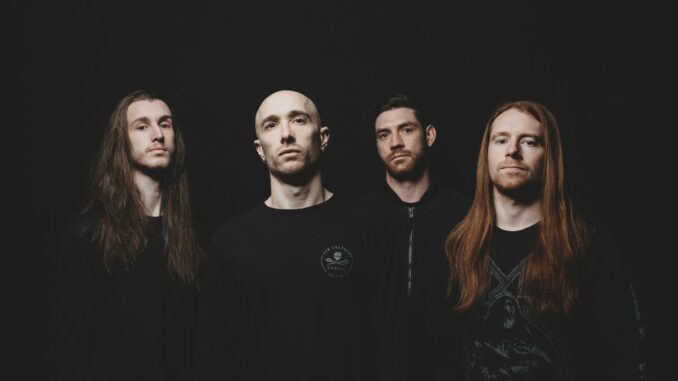 Album Review: Sylosis - Cycle Of Suffering
Reviewed by Paul Hutchings
At last some good news. Cast your minds back to the late 2000s, and a band from Reading that was bursting from the pack, picking up high profile support slots and headlining their own tours around the UK. Four albums between 2008 and 2015 continued their rise before the death of Architects guitarist Tom Searle. Sylosis were put on hiatus as main man Josh Middleton initially filled in for his close friend and then joined the metal core outfit. But now, five years after last album Dormant Heart was released, Middleton and Sylosis are back with their fifth album, Cycle of Suffering.
Middleton is now the only surviving member of the original band, with bassist Carl Parnell stepping away after 19 years in the band. He's replaced by Conjurer bassist Conor Marshall who makes his recording debut with Sylosis alongside drummer Ali Richardson (Bleed from Within) whilst Alex Bailey remains on rhythm guitar.
A rising guitar tone quickly gives way to a blistering opening as 'Empty Prophets' kicks off the album in frantic style. Middleton's snarling roar is back, as strong as ever whilst the intricate guitar runs, ferocious thrash combined with progressive metal are all in the mix once more. Short and sweet, 'I Sever' follows. It's amazing that within four minutes of the opening two songs the distinctive style of the Reading based outfit is immediately apparent. 'I Sever' has all the trademark crunching clean riffs, powerful battery drumming and high paced driven approach but underpinned with some delicious melody. Trivium are the most immediate comparison I can make, although there is undoubtedly some reference to Machine Head (but a damn sight better than Catharsis!).
Middleton's production with mastering from Ermin Hamidovic is crisp, the balance sweet. Sylosis have made a sensible move on this return, keeping tracks short and bruising; only 'I Sever' and closing song, the curved ball 'Abandon' trouble the five-minute mark. The title track hits hard, jagged chainsaw guitars combining with thunderous bass drumming and deep pulsing bass lines. There are plenty of time changes as well, giving the songs depth and gravity. Whilst the time with Architects has undoubtedly influenced Middleton, especially in his confident vocal delivery, there remains enough here to appeal to most. 'Shield' echoes Parkway Drive, and it's the combination of metal core and thrash that is likely to propel Sylosis back into the big time with this album. There are plentiful hooks on songs like 'Calcified', with its almost punky feel blending with thick riffing and explosive lead breaks. A change of pace adds atmosphere, dark piano tones introduce 'Indivia', another crushingly aggressive powerful track, swathes of swirling guitars combine whilst Richardson's drumming is phenomenally tight. The singalong chorus sure to become an anthem in the pits across the country.
I remember racing around an enormous circle pit in the Bohemia stage at Sonisphere in 2009 as Sylosis opened the event. I was a lot younger and fitter then but 'Idle Hands', the blistering 'Apex of Disdain' and 'Devils in Their Eyes' will all get those with better cardiac systems and younger legs than me racing around once more. Sylosis want you to move, and these tracks will do that. A total change of introduction to 'Arms Like A Noose' initially allows a pause but don't be fooled by the gentle introduction as the action is soon at 100 mph, with a chug that demands you bang your head. A reprise allows a pulsating riff access and slows the pace, but the heaviness remains. It is solid stuff.
The delicate, gentle and emotional 'Abandon' closes the album. A departure from everything else, with a blend of clean vocals mixing with Middleton's usual roar. Abandon's total change of direction, use of synths and keys and the variation in intensity suggests potential seeds of change. It leaves 'Cycle of Suffering' on an interesting conclusion for the listener. This album is strong from start to finish, vibrant enough to stand away from other bands whilst retaining that instant recognition. Not bad for a band that haven't been active for over three years. Welcome back!
'Cycle of Suffering' is released on Nuclear Blast on 7th February.