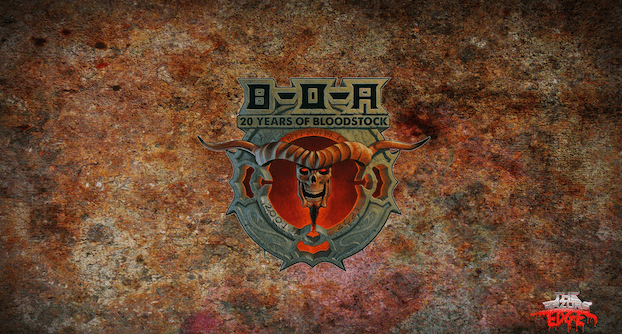 Bloodstock Announce New Charity Partner And Reveal More Bands.
BLOODSTOCK is very pleased to share that this year's charity partner will be the mental health charity Mind. Mind provide advice and support to empower anyone experiencing a mental health problem, and campaign to improve services and raise awareness. 1 in 4 of us will experience a mental health problem every year and Mind won't give up until everyone experiencing a mental health problem gets both support and respect. In addition to guestlist donations, raising funds on behalf of Mind on site at BLOODSTOCK will be festival attendee Michael Lacy, with his PATCH AMNESTY initiative. Bring your old, spare, or new patches to donate, browse patches to buy, or even just stop by for a chat. All proceeds go to Mind. Please look out for PATCH AMNESTY / Mind signage and stop by his stand in the main arena to give your support.
Maria Khosla, Community Fundraising Manager for Mind, says:
"We are grateful to the organisers of Bloodstock Festival and to Michael Lacy from Patch Amnesty for choosing to support Mind at this year's event. One in four of us will experience a mental health problem every year so their support in raising funds and awareness means we can continue to make sure that no one has to face a mental health problem alone."
In addition the festival has also announce a flurry of additional bands for the 2020 edition.
Louisville, Kentucky's SAVAGE MASTER will be opening the Ronnie James Dio main stage on Saturday, waking you up with a concrete slab of traditional heavy metal! The group released their latest record 'Myth, Magic & Steel' in October.
Check out the title track here
Jetting in from Italy, blackened-death metal demons BLASPHEMER stride onto Sunday's Sophie Lancaster stage to unleash unholy hell, no doubt including a few new tunes from their latest opus, 'The Sixth Hour', released last month via Candlelight Records.
Joining them on Sunday in the Sophie stage, are modern hard rock crew, LIBERTY LIES. Citing influences such as Biffy Clyro, QOTSA, and Coheed & Cambria, this West Midlands squad finally dropped new album 'It's The Hope That Kills You' last November.
Also performing on the Sophie stage on Sunday, are BLACK TONGUE. Hailing from Hull, and bringing some down-tempo doom, the five-piece have added their most recent album 'Nadir' to their YouTube channel in its entirety, so you have until August to make sure you know it back to front, if you don't already.
In addition, Bury based riff juggernaut PIST are added to the Sophie Sunday bill. The band released their latest album 'Hailz' last November through APF Records. It's a record that will grab the attention of fans of Orange Goblin, Kvelertak, Motörhead, Entombed, Uada and Black Breath, elevating PIST to one of the standout bands in the current UK underground heavy scene. Have a listen to 'Mind Rotter' here.
If that's shaping up your Sunday viewing nicely, why not add SHARKS IN YOUR MOUTH to your must-see Sophie list on Saturday. Offering up their take on post-hardcore and djent, the Italian outfit released their second full-length 'Sacrilegious' in 2019.
There's just a couple of days left to sign up to BLOODSTOCK's very popular ticket deposit scheme, which allows you to spread your standard weekend ticket purchase over 5 instalments. Be sure to make your first payment of £29 + booking fees before the end of 28th February, then after that, your instalments break down as follows: Payment 2 - £29 (debits your bank account on 27/03/20), Payment 3 - £29 (debits 27/04/20), Payment 4 - £29 (debits 26/05/20), and then your Final Payment - £29 + postage (debits 26/06/20). Please note VIP and child tickets are not eligible for the deposit scheme. Sign up at the ticket store.