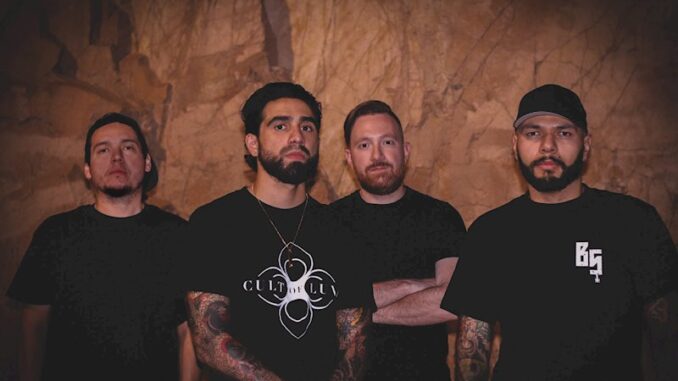 Album Review: Sabrewulf – Mala Suerte
Reviewed by Dan Barnes
Only the second album from the Texans, Mala Suerte feels a lot like Sabrewulf's love-letter to Scandinavian Death Metal. That's not to say the band are lazily picking up Entombed's playbook and regurgitating tired ideas, rather they are using that classic sound as the starting point for an exploration of the genre.
For proof of the scope of the album, look no further than the closing and title track – a seven-and-a-half-minute epic journey through all the ideas laid out before. Mala Suerte's beginning is atmospheric and ancient sounding, chanting is accompanied by unsettling guitar lines which foreshadow the grim vocals. It feels like Sabrewulf are pushing the boundaries here in a way they only intimate elsewhere on the record, their arrival at this point sees them having passed through some traditional death metal tropes: the huge low end of Bottom Dweller and Marked for Death, the big hooks and precise riffing of Ritual Skin, all flavoured by a modern twist of panic inducing beatdowns.
Sabrewulf are not afraid of mixing up the tempo all across Mala Suerte; Grave of Pestilence combines pummelling drums with lighter moments, whereas Warbreeder's explosive opening and choppy riff surrenders itself to howling guitar.
But if you are in the mood for flat-out aggression look no further than Inverted Faith and Coffin Nails, two tracks which cannot be accused of subtlety, instead are fast and savage and bludgeoning the listener into submission.
The pre-curser to the track Mala Suerte is found in Final Prayer, the album's central song and one which picks up the ominous opening of Beyond the Gates and transforms it into stylistic juxtaposition, pitting a darkly atmospheric – almost doomy – drone, supporting a female vocal, against a ferocious wall of sound in which the male voice sits so low in the mix that it is rendered nearly inaudible.
For a genre that can be by-the-numbers in less capable hands, Sabrewulf have created a forward-looking and genre-defining album with Mala Suerte. In listening to it as preparation for this review I was shocked at the fact that it seemed to come to an end far too quickly and no matter how many times I put it on it always seemed to have something to say that I had missed the last time around. That for me is always a good sign.