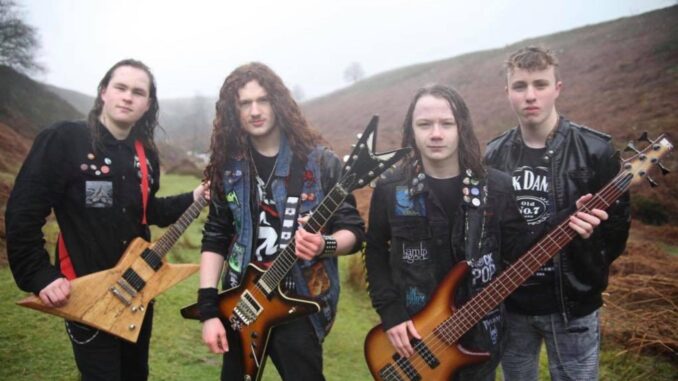 Album Review: Steel Mage - The Uprising of Hatred
Reviewed by Neil Brannagan-Fuller
The UK is a hotbed for thrash bands at the moment, there is definitely resurgence in our love of thrashing, from the reforming of Hi-Tech Slammer clad warriors from the 80's, through to young bands who weren't even a twinkle in their parent's eyes back in 1989!
Manchester's Steel Mage are one such band that fall in the later bracket, these four lads aren't going to be asking for a pint of you for a couple of years that's for sure! But they've already have a large social media following and buzz around them, partially driven by guitarist Tommy, who's a bit of an internet guitar prodigy, But enough about that, what about the E.P.?
The title track is up first, 'The Uprising Of Hatred' starts with a classical-esq introduction before launching into this instrumental track, driven around the guitar riff through the whole piece, I'm not sure what to make of this as an opener, although technically competent it feels like the intro music for a rock show! Next track up 'Warrior' steps things up and is a proper thrash track, driving riffs and obvious bits as to when you should bang your head, and a pretty long guitar solo for a short track! 'Beatdown' follows in quick succession, this track has been on the streaming sites for a few weeks now, and was a great choice for a single, as it shows the boys off in the best light this is proper old school technical thrash track, powerful guitar work, great sounding percussion, and the slightly odd vocals (I have to admit I struggle to put my finger on what I find odd, they just seem strange at times) really works, as does the final track 'Blading Edge' which follows on to finish the EP in a strong vein.
I would definitely describe Steel Mage as a more traditional thrash band than a lot of other bands emerging at the moment; so much less blackened than a lots of others which makes a refreshing change, and I don't think I'd be unfair to say the influences of Megadeth, Annihilator and Pantera are pretty apparent in the song-writing and playing. That said although not entirely original (but what is) the musicianship is great, production is clean and powerful and these lads have tons of potential, we will be watching with interest in how they develop and grow and make the sound their own whilst turning 'followers' into fans and Spotify streams into physical sale sales and gig attendance!