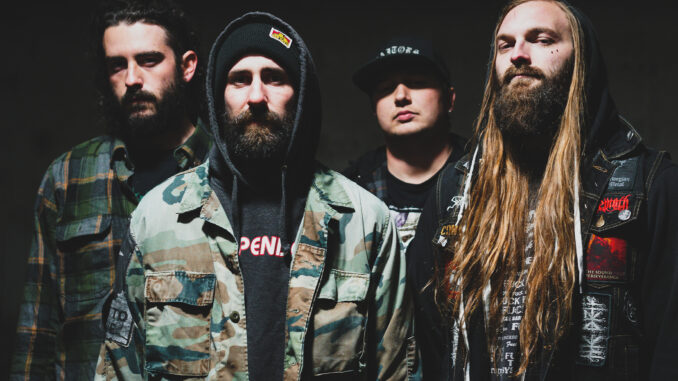 Album Review: Foes - American Violence
Reviewed by Carl Black
There comes a time when a hobby, distraction or past time becomes your main focus. The thing you were doing for a bit of fun, is now your main bread winner. This is what happened to the members of Foes. The members were all in other, respected bands and Foes was a side project to keep out the boredom and keep the creative juices flowing. It became apparent that in 2015, Foes should be their main focus and the band has developed from side project to main gig for these Oregon musicians. After a couple of releases and regular weekend gigging, we get 'American Violence', a fast and hectic E.P.
Foes have a grindcore/hardcore/death metal sound, reminiscent of Nails. They sound like a bag of nails, being dropped onto your head from a great height. They smash through these songs like a locked down couple through the newest Netflix sensation. No song is over three minutes, there's no hanging around. Guitars and drums crashing in at all angles, the singer waking the dead with the growling vocals, and just when you can't take anymore, you get a huge beatdown. The first song 'Eden Burning' is a great example of how Foes conduct themselves on record, savagely violent with one hell of a beatdown.
It's these beatdowns that really give each of the songs an identity. 'Devolved Into Humanity' has such a distinct break down it really sets it apart from the other songs on this E.P.. It has dimension whilst still retaining brutal assault. When Code Orange are at their most metal, I'm sure they would be proud to have written some of these songs.
A common thread throughout the album is best illustrated during the last song, 'Illusions of Faith'. It's like a Korn song, smashed up to ten with a stuttering break/beatdown. It's not a bad recipe. Definitely enough here to keep all the band member's focus fixed securely on Foes, and we await a full album.
Foes release 'American Violence' on April 17th via Glacier Recordings.